I like big (coffee) cups and I cannot lie!
Whether you like to people watch, get down with the cool kids or sip on a cappuccino while your little ones play happily nearby, Dubai has the coffee spot for you. In fact, cafe culture is so on point here these days, you might even feel a little overwhelmed with all the choice!
Here are my five favourites at the moment…
Bystro
Bystro had a revamp a few months back and has come back stronger than ever. Out of all the venues on this list, this is probably my current favourite. I visit with friends for catch ups, with the husband for date night (the food is excellent) and with Charlie for 20 minutes peace as they have a brilliant little kids corner with tables and chairs, Lego, books and other toys. Did I mention they dish out complimentary babycinos? Genius.
The Roseleaf Cafe
The Roseleaf is tucked away inside Dubai Garden Centre on Sheikh Zayed Road and it's a bit of a find. I love this place as it feels quite old school (probably down to the open white tile kitchen) and it always has a zen vibe, even when full to the brim. The staff are really friendly, the coffee is excellent and served in lovely bone china cups, like the one in the main picture of this post. They also do a mean caramel shortbread and unfortunately, one is never enough!
A4 Space
I've mentioned A4 Space before because it really is a Dubai gem. A huge warehouse in the middle of Al Serkal Avenue in Al Quoz, this place manages to feel both vast and homely at the same time. Spread over two floors – with a third small mezzanine level complete with cosy snugs, this is a perfect spot for photography aficionados, art fans or just someone who fancies whiling away an hour or two in a really relaxing spot. Can't recommend it enough.
Raw Coffee Company at Ripe Market
Slightly different from the rest, Raw Coffee Company actually has a venue in Al Quoz (which I haven't been to yet) but it's their weekly stall at Ripe Market in Zabeel Park that I can't get enough of. It can't be denied that their coffee is actually sensational, but tie it up with the great outdoors and the hustle and bustle of Ripe Market and you're on to a winner. Be warned though – there will always, always be a queue – because it's that good!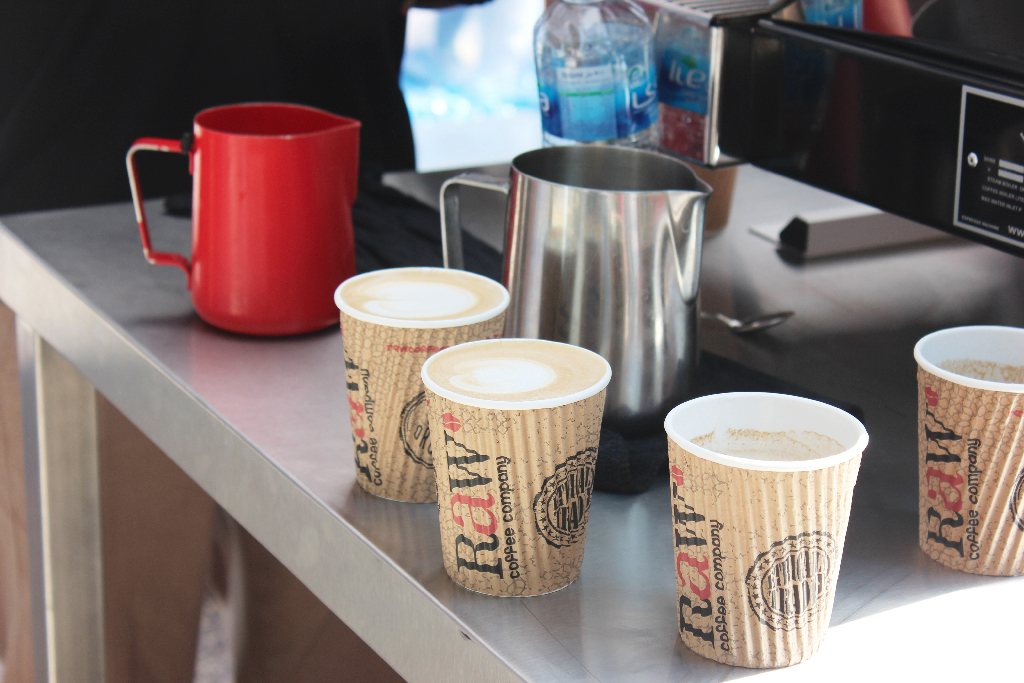 Tom & Serg
Out of all the five places on this list, I probably spend the most time at Tom & Serg. Why? Two reasons really; it's a brilliant spot to people watch as it's always busy and the crowd is generally made up of Dubai's cool set (that's why I'm there obviously – haha) and the coffee is really, really good. The superfood salad is also delicious. That's three reasons isn't it? Just go there – you won't regret it!
Where's your favourite spot for coffee in Dubai? Let me know!