It's been ages since I did a weekend links post, so here's a new one!
I recently paid a visit to Bystro Cafe (pictured above) as I had heard plenty of pleasant rumblings about the place. It's just off Sheikh Zayed, for those of you in Dubai, located between Jones the Grocer and Reem Al Bawadi. It's a lovely big open space with gorgeous chalk artwork, huge windows and seriously good homemade food. They totally get the kid thing too – they have a small corner just for little ones with toys and mini tables and chairs, and one of the lovely staff plonked a babycino in front of Charlie as soon as we sat down! Brilliant. Here are some more pictures of the place…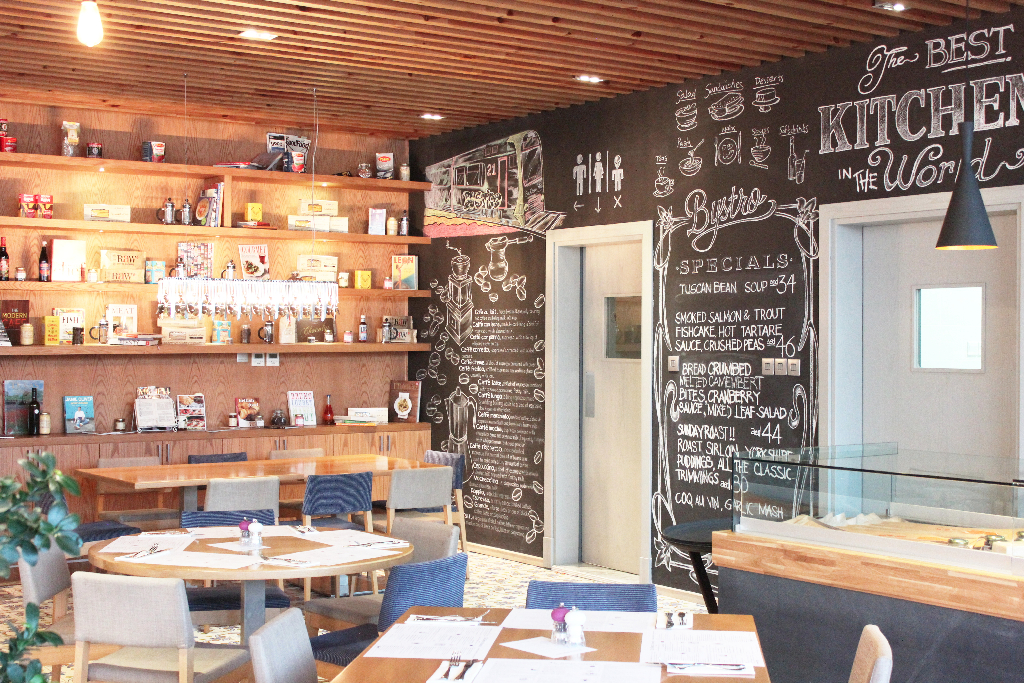 Oribe finally arrived in Dubai last week and there may have been lots of whooping and cheering from Laura and I. We hit Harvey Nichols in Mall of the Emirates (it's in the Beyond Beauty section) as soon as it arrived and splashed the cash on some new Dry Texturizing Spray. I also picked up Apres Beach Spray which has changed my life. Yes, I know I am prone to dramatics but guys, I have not used heat on my hair for over a week because it does magical body/texturising things! If you don't believe me just look at this instagram. The Dry Texturizing Spray is Dhs195 and the Apres Beach is around the same I think. You can also order online from Space NK.
I bought some dainty converse from ASOS a few days ago and I am now waiting impatiently for them to arrive. I'm hoping for great (dainty shaped) things and opted for a kind of washed denim/blue shade. I also ordered this skirt and er, this sweater. You can't just order one thing from ASOS, right? And while we're on the subject of online shopping, American Apparel is now finally available in Dubai from Sivvi.com. Here I am in my AA hoodie below – super comfy 🙂
Blog-wise, I came across Chelsea's blog a few days ago and I am little bit obsessed. Her style is really classic and easy to replicate and her hair inspires mega texture-envy. She lives in Minneapolis and her outfit pictures are on point. I also want a Starbucks every time I read a new post. I'm sure most of you are already familiar with her blog, I've just been a bit slack of late and living under a work-related rock! 🙂
I read Selma Gomez' Top Shelf on Into The Gloss with unconcealed glee a few days ago. She loves Oribe! She loves candles! She uses Laura Mercier Tinted Moisturiser and Jo Malone Fragrance! I mean, we're basically the same person, right? (obviously not including Justin Bieber…ew). All joking aside, she has a really refreshing take on skincare and makeup (not that she needs any) so it's definitely worth a read even if you're not a fan.
And that's it really. So where have I been for the last couple of weeks? Literally chained to my desk as a result of deadlines and events, which are mostly over now so things are nearly back to normal. Hope you're all having a lovely weekend and Eid Mubarak to all my readers!