What a bloody exciting blog post title!
So, basically I've been playing with new makeup and I have some comments to make about said makeup. Also, and totally unrelated to this post, Taylor Swift's new song Out of the Woods is sensational! I'm listening to it while writing this post. I'm not usually one for T Swizzle's music but there's something about this that I love. The heavy synths maybe?
Anyways! Talk about going off point. Back to the makeup…
Clarins Ladylike Autumn Collection. Hate the name but like quite a few of the products. Although there are a few bits and bobs, the cream to powder shadows caught my eye initially. Having tried all the ones I was kindly sent by Clarins I have concluded that I don't particularly like them.
Now, don't get me wrong – texture is nice, packaging lovely, payoff decent, etc. I'm just not one for matte cream (to powder) shadows. I find them boring and too natural. Gimme a bit of shimmer any day. Happily however, there is one shade in the group called Sparkle Grey which is er, a sparkly grey and oh my, its beautiful. It's not a crap grey that makes you look washed out and knackered, it's a bright, sparkly 'oh what eyeshadow are you wearing' grey that looks flattering and pretty. Here it is in action below…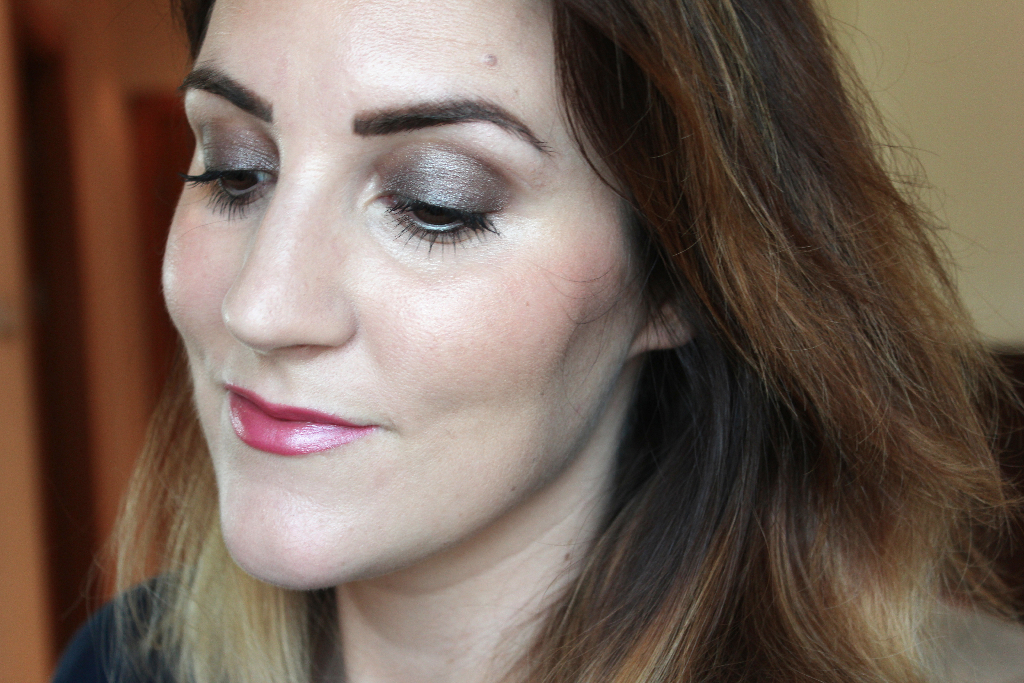 There's also a pretty decent brow palette in the collection along with a selection of new Rouge Eclat lipsticks. The shades I have are (below) L-R; Tropical Pink, Strawberry Sorbet, Red Fuchsia, Chestnut Brown and Pink Magnolia.
Gorgeous creamy lipstick. Easy to apply, doesn't bleed into the lips and lasts a pleasing amount of time. The packaging is also pleasing. I'm wearing shade Tropical Pink in the picture above which is a rather 90's icy pink.
Shiseido Future Solution Total Radiance Foundation. This arrived yesterday and I ripped open the box with feverish excitement to discover an outrageously beautiful glass pot filled with delicious foundation. Now, the shade I was sent was too dark however, first impressions are extremely positive – full coverage, blends beautifully, slightly dewy finish, comfortable on the skin. Negatives: it's a pot foundation. That's all I've got so far. I feel like it might be as good as Clarins Extra Comfort? Stay tuned…
YSL Fusion Ink Foundation. Well, it finally made its way to Dubai. It only took about a year… I got my hands on it today and although it's not what I would usually go for, I think I'll like it. Water-based, medium coverage with a semi-matte finish. Dries frighteningly fast however, but this is my only concern. I think it will be a 'pat and immediately blend' application instead of my usual 'pat, pat, pat, pat, blennnnnnnnddddddd'.
And that's it for now really! Have you tried any new makeup bits lately? 🙂