Oh hello there, shall I just dive into weekend links as if I've posted them every week for the last few weeks?
Probably the best idea 🙂
Urban Decay Beached Eyeshadow Palette
I ordered this from Debenhams a couple of weeks ago.
After foundations, my next biggest weakness is eyeshadow palettes.
Louise O'Connell spoke it about it on Instagram, and as soon as I clocked eyes on the shades I was sold!
Eight brand new, warm, bronzey, summery shades, plus some incredible aqua blues that just scream summer.
The packaging is dreamy (how can you not love something covered in palm trees?) and compact enough to sling in your makeup bag when travelling.
I've used it almost every day since it arrived and I love the velvety texture of the shadows (Heatwave, 16th St., and Daybreak are my favourites).
There is a little bit of fallout from some of the shades, which I've experienced with other UD palettes, but I don't really mind as the payoff is very good and they blend beautifully.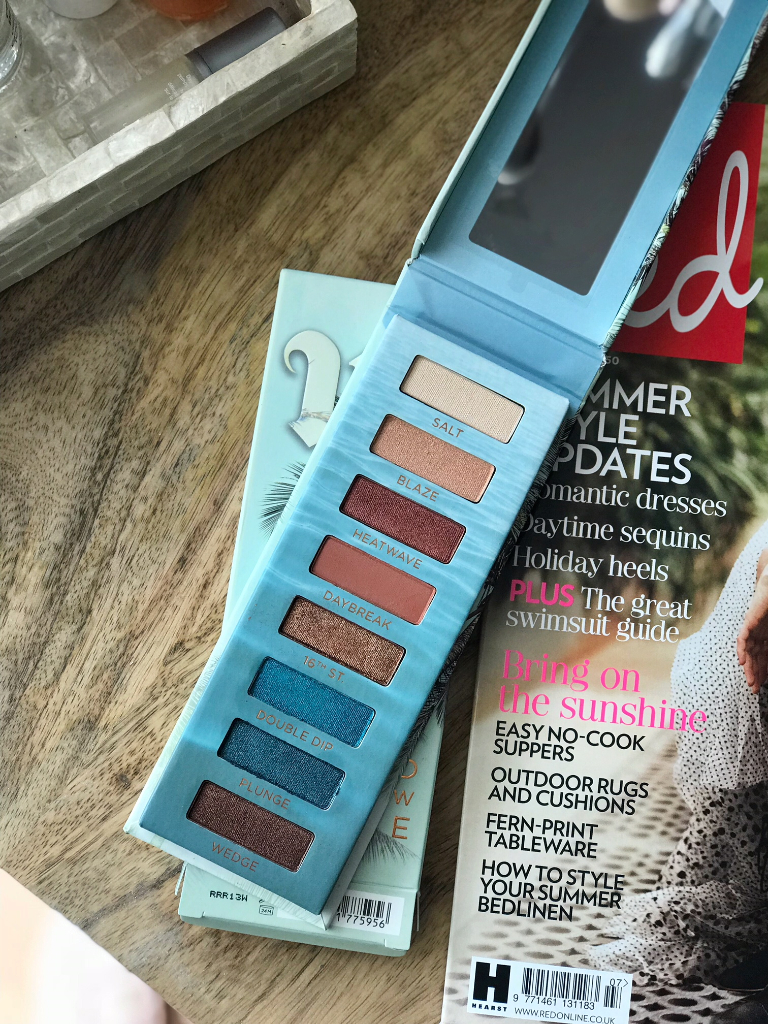 Caliphate Podcast
Rosemary introduced me to this and, I devoured all available episodes over a two-day period.
Caliphate is a serialised audio documentary that follows New York Times Foreign Correspondent Rukmini Callimachi as she reports on the Islamic State.
It's fascinating, disturbing, and at times I actually found myself holding my breath while listening.
My brother wrote a great review of Caliphate which you can read here.
(I'm also halfway through Slow Burn, a podcast about the Watergate scandal. So far, so excellent).
Shoe Lane
I loved frequenting this little coffee shop when we first moved to Dublin, and I still love it now.
Amazing brews and pastries, lovely staff, and a super cute interior. I can be found here at least once a week working on my laptop, eating pain au chocolat and drinking copious amounts of caffeine.
They also have a fab co-working table tucked away upstairs.
Other faves which I'm pretty sure I've mentioned before; Kaph, 3FE, and Coffee Angel.
Dior Backstage Face and Body Foundation
I'll start this by saying, did you know Sephora France ship to Ireland? 🙂
Shipping is eyewateringly expensive at €19 (eek), and it takes over a week, but they ship here! Hurrah!
That's how I got my hands on the latest foundation offering from Dior. I wrote a mini-review on Instagram which you can read here. Essentially, it's a better, fancier version of MAC Face and Body, but very similar to Dior Forever Undercover (so if you have this already you might want to give Face and Body a miss).
It will be available in Ireland but not until later in the year.
Brown Thomas said before Christmas and Arnotts said by August.
ASOS
I made an order online this morning as I feel my wardrobe is distinctly lacking in the 'summery' department.
It's highly likely that some of these items will not suit me, but that's what free returns are for, right? 🙂
I ordered this sweet peplum blouse from New Look. It's only €25, so as long as it doesn't bunch around the boobs, then we'll be grand.
This longline classic white blouse from Mango. I watched the video about a million times just to see how it moved when the model moved, and it looks good. Nice and flowy, as my mother would say.
These wide-leg cropped trousers from Monki, which I already feel might be a mistake actually. Will they be flattering on a non-size 8, non-model, human? Let's see…
And this gorgeous tea dress from Yas, which I feel would look better if it was slightly cinched at the waist, but I'm going to give it a go anyways. I love the colour and the neckline, and it has lovely sleeves, too.
And that's all for this week!
I'll be back in a few days time with a full review of Dior Face and Body.
Thanks for reading.
♥