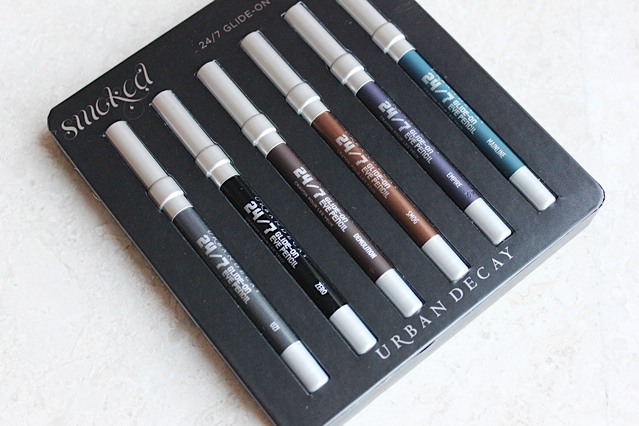 I don't often blog about eye pencils because, well… they're pencils. Not very exciting. These one's from Urban Decay however, are exciting – hence the post! I first tried the 24/7 liner's when the original Naked Palette came out. It had the double ended brown and black pencil inside the case. I thought they were super smooth at the time and very pigmented however, because I am very fickle when it comes to makeup, I never repurchased and all was forgotten.
Roll on two years and I was sent this little set by Urban Decay. When I initially clapped eyes on it I thought 'ooh I remember these pencils' and excitedly bust out the black shade (zero) for regular use and handbag adventures. Now, either I had forgotten exactly how good these pencils are or else the formula has changed and they have been made even better because they are buttery smooth to use – so soft and they blend like an absolute dream without fading away! (as many super pigmented kohl pencils can do) They are so delicious to use that I have even started on the other shades, which is quite unlike me – I usually stick to my browns and blacks.
All my other pencils have been donated/gone to the big pencil shop in the sky such is my allegiance to these. If you are a regular kohl pencil user I can't recommend them enough. At in and around Dhs147 they are certainly not cheap but for six pencils of this quality that will last a long time I could justify picking them up. You can get them in Sephora here in Dubai or online from Beauty Bay.