My all-time favourite skincare products, listed by category, and updated frequently.
If you're thinking about trying a new product or if you're looking to fill a gap in your skincare routine (or if you're starting from scratch), this list might be of use. All the products mentioned are ones I recommend again and again, and repurchase regularly. All links are affiliate which means that if you make a purchase I make a small commission.
Cleansers
I use a mix of cleansers in my skincare routine; oil-based, milk-based, or balms. I generally use balm or oil if I'm removing makeup or SPF, and then I'll second cleanse with something a little lighter (I only double cleanse at night).

Under Eye Care
Everything from eye creams and eye serums, to my holy grail for under-eye hydration; eye gels. Use them daily, weekly, or whenever you like. Read more about under eye care and targeted treatments in this post.

Antioxidant Serums
Antioxidants are incredibly powerful; they hydrate and brighten, reduce the appearance of scarring and pigmentation, balance skin tone, and encourage cell regeneration, along with many (many) other benefits.

Hydrating Serums
I use hydrating serums morning and evening in my skincare routine (and I always dampen my skin with water before applying to help them hold on to moisture for longer). Keeping your skin hydrated is important at any age, but even more so as we begin to get older.

Exfoliating Acids
Exfoliation is one of the most important steps in any basic skincare routine. It gets rid of dead skin cells and helps to unblock pores which in turn reduces breakouts. There are two categories of skincare acids; Alpha Hydroxy Acids, or AHAs, and Beta Hydroxy Acids, or BHAs.
Both can be used daily, and they can also be used together as they target different layers of the skin. There's lots of great products on the market now that have both AHAs and BHAs, and they come in various types of products; toners, serums, exfoliating pads, etc.
AHAs or Alpha Hydroxy Acids (Glycolic, Lactic Acid, Mandelic, and so on) are used as a chemical exfoliant and work on the surface of the skin. They're fantastic for anti-aging, for getting rid of dead skin cells, for minimising the appearance of pigmentation and acne scars, and for giving you that glow. If you have sensitive skin, go for Lactic Acid over Glycolic Acid as it's milk-based and much gentler on the skin.

BHAs or Beta Hydroxy Acids (Salicylic) work on the deeper layers of the skin. They're fantastic for breakouts, for oily, acne-prone, or congested skin. Salicylic gets deeper into the skin, unblocks pores, reduces breakouts and the appearance of blackheads, and resurfaces the skin.

Face Mists
I love face mists and use them every day without fail. I use them to dampen my skin between layers, and to freshen up on days I'm not wearing makeup. They're also great for keeping in your bag when you're on the go or traveling.

Moisturisers
Moisturiser is the last (very important) step in any skincare routine, as it locks in all the serums that you applied, and seals everything in.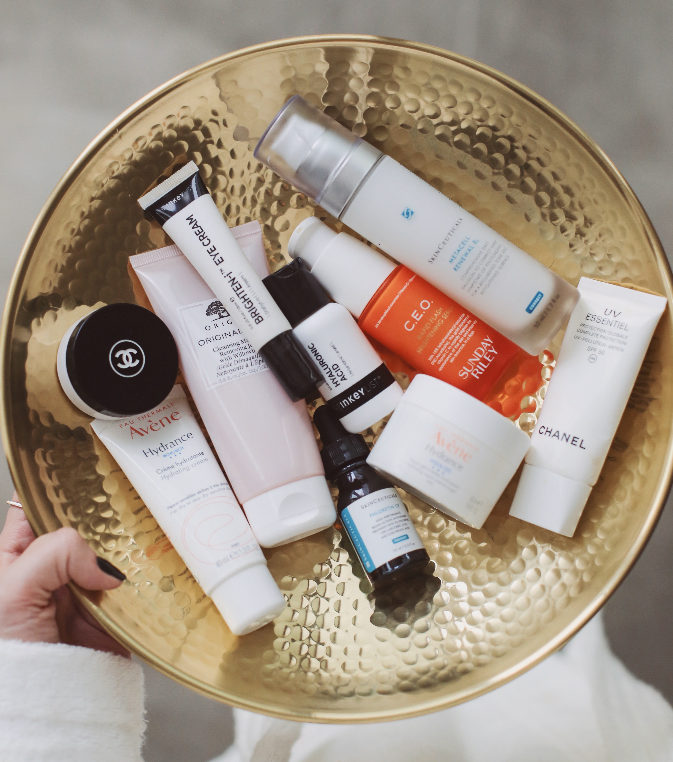 Retinol
Something you should absolutely consider adding to your skincare routine in your late twenties/early thirties and upwards is retinol. A derivative of Vitamin A, retinol is the gold standard when it comes to boosting cell turnover and increasing collagen production in the skin. Consistent use will help reduce the appearance of pigmentation, fine lines, and wrinkles, and it's brilliant for treating acne, too.
The key with retinol is to always start low and slow. Low dose, slow frequency. Check the percentage of the retinol you're thinking about using; look for 0.3% or 0.5% or similar, and factor it into your routine based on your skin type and sensitivity levels. For example, when I first dipped my toe into the retinol pool it was with SkinCeuticals 0.3%. I used it once a week at first and after three weeks I increased to twice a week. I worked my way up to every other day a few months later.
Retinol should always be used at night, on completely dry skin. After cleansing and before serums and moisturiser. If you have very sensitive skin you might consider 'buffering' it at first. This means diluting your retinol slightly by mixing it with some of your moisturiser.

SPF
SPF is the best anti-aging ingredient on the market.
Wearing SPF every day gives you daily protection from the sun; reducing your chances of sunburn, of developing fine lines and wrinkles and pigmentation. It also gives your skin the opportunity to repair itself from damage that has previously occurred.
All of my favourite sunscreens are lightweight, easy to apply, not sticky, and sit beautifully under makeup.

Hydrating Masks
I use hydrating masks a couple of times a week. You can never have enough hydration in your skin, and I find them especially fantastic when I'm tired, or on the verge of a breakout. Maintaining moisture levels in your skin is a sure-fire way to keep your skin healthy (and the process of using them makes me feel pretty zen, too).

Resurfacing Masks
I use resurfacing masks once a week or so, depending on how my skin feels and looks. These are the masks that make me feel like I have been born again; they slough off dead skin cells, reduce the appearance of blackheads, tighten, brighten, and generally smooth and regenerate my skin.

Sheet Masks
I use sheet masks many (many) times a week. During the day, before bed, when I'm working at my desk, or often before I apply a full face of makeup. Another brilliant way of easily hydrating and refreshing the skin.

Face Oils
I love using face oils at night, particularly with a Gua Sha when I want to release tension from my jaw or neck (click here to watch a demo of me doing this). These are my favourite oils to use; they're lightweight, smell incredible, and make my skin feel amazing.

Calming Products
When my skin is having a reaction, when I've over-exfoliated, or when it's generally just irritated, red, itchy, sore or tight, these are the miracle-working products I reach for to calm, soothe, repair and restore my skin barrier.

Tools