One of the best skincare ingredients, learn everything you need to know about retinaldehyde. Discover what it is, benefits and tips for adding it to your routine.
What is retinaldehyde?
Retinaldehyde is a powerful retinoid and one of the most potent forms of Vitamin A. There are several types of retinoids; retinol, retinaldehyde, and tretinoin.
An easy way to visualise each retinoid and understand its strengths is by imagining a ladder with three rungs. On the ladder's top rung is tretinoin, also known as Retin-A. This is the strongest type of vitamin A and is only available on prescription from your GP or dermatologist.
Below tretinoin, on the ladder's second rung, is retinaldehyde – also known as retinal. This is the next strongest retinoid and is available in five strengths from Medik8.
On the third and bottom rung of the ladder is retinol. This is the lowest strength, the least irritating and the most widely-available type of retinoid.
Ten of the most commonly asked questions about retinaldehyde are answered here.

Is retinal the same as retinaldehyde?
Yes, retinal is simply a shorter word for retinaldehyde.
What do retinoids do?
Retinoids are the gold standard in anti-ageing skincare and one of the only proven ingredients to prevent signs of ageing and visibly reduce existing damage.
Retinoids are effective on everything from acne, uneven texture and dullness, to pores, fine lines, wrinkles and pigmentation. They work by increasing cell turnover and boosting collagen production, which helps the skin renew. Retinoids' ability to drastically transform the skin is second to none.
How is retinal different from retinol?
Although both deliver outstanding results, retinal works at a much faster rate than retinol.
Retinal works 11 times faster than retinol, according to a Biochemical Journal-published study.
Retinal also has antibacterial properties, making it a great choice for those with oily or blemish-prone skin.
Both are excellent for improving uneven skin tone and texture, and for reducing the appearance of lines and wrinkles.
Read about the key differences between retinal and retinol here.
1. Retinal helps to rebuild collagen
Retinal stimulates cell turnover and kickstarts the production of collagen in the skin. Increased collagen levels strengthen the skin and help it to appear firmer, smoother, plumper, and more even-toned.
2. Retinal reduces the appearance of acne and blemishes
Retinal is antibacterial and an excellent option for oily and blemish-prone skin. It helps to kill bacteria in the skin, which can help reduce acne's appearance. Additionally, it helps to sweep away dead skin cells, unclog pores and heal existing breakouts and scarring left behind from acne.
3. Retinal makes skin smoother and more even
Retinal works by increasing cell turnover in the skin. This boosts the production of collagen and causes dead skin cells on the skin's surface to shed faster, resulting in plumper, smoother, more even-toned skin.
4. Retinal improves skin hydration
A build-up of dry skin cells can leave the skin feeling drier than usual. Retinal helps to sweep away these dead skin cells, which in turn helps to improve and balance hydration levels.
5. Retinal reduces the signs of ageing 
Retinol is the gold standard when it comes to reducing visible signs of ageing. It creates new skin cells, boosts collagen production and delivers smooth, brighter, more even-toned skin with fewer visible fine lines, wrinkles and pigmentation.
6. Retinal is an antioxidant for the skin
Retinal, and all types of retinoids, are powerful antioxidants. Antioxidants protect the skin against environmental aggressors such as UV damage, pollution, smoking and stress. These environmental aggressors can cause a breakdown in collagen, which results in increased fine lines, wrinkles, pigmentation and sagging skin.
Antioxidants, such as retinal, not only help to protect the skin from these environmental damage, but can also help to repair damage that has already occurred in the skin.
7. Retinal helps with hyperpigmentation
Retinal is very effective in the treatment of hyperpigmentation. By increasing cell turnover, retinal helps to reduce the appearance of hyperpigmentation and dark spots, fade scars and also helps the skin become visibly brighter and more even-toned.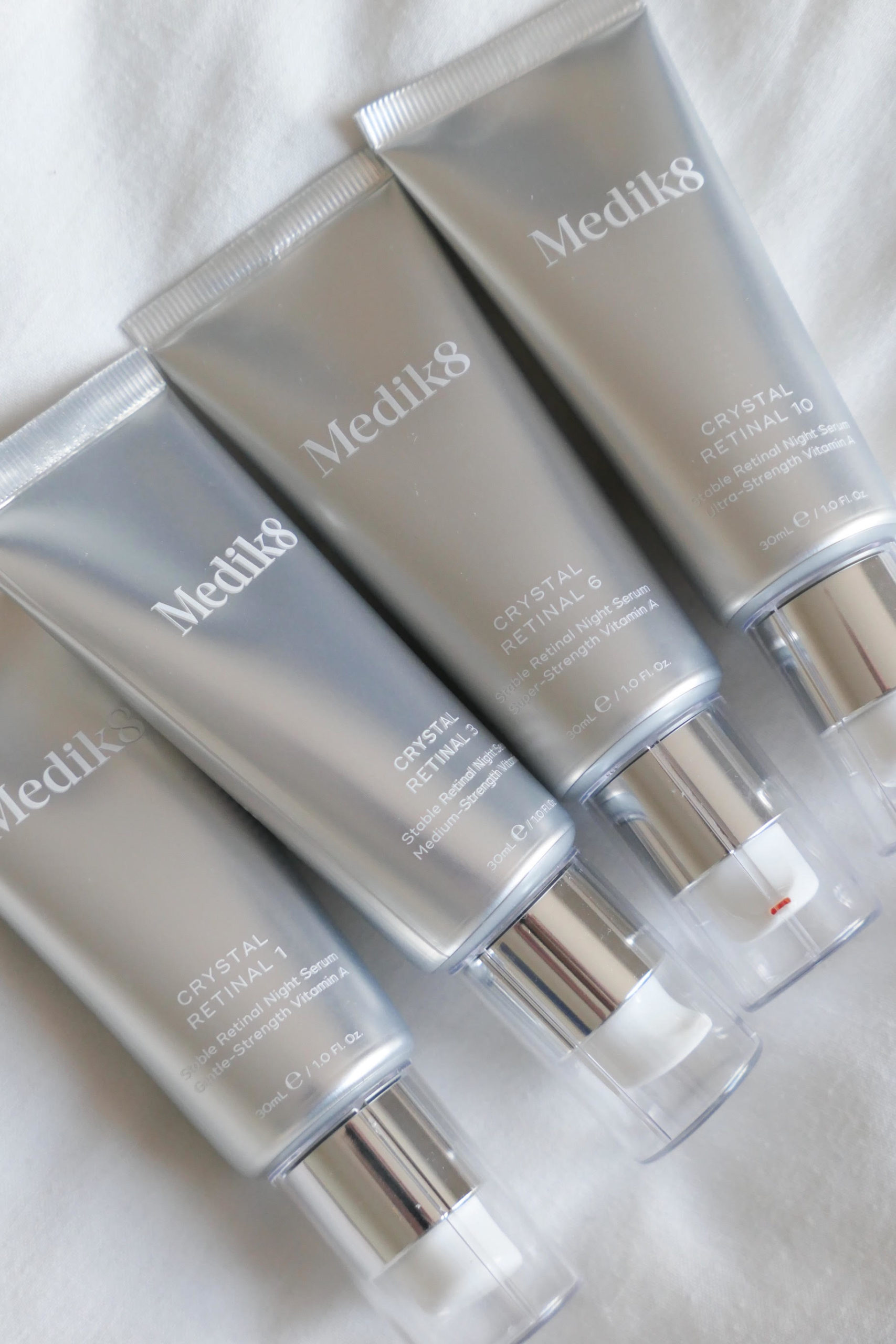 Potential side effects of retinal use
When introduced slowly, retinal can be used on the skin without issue. However, minor side effects can be experienced in the form of mild irritation, also known as retinisation or retinoid dermatitis. This can be anything from red, itchy, flaking skin to stinging and excessive dryness.
Retinisation can be counteracted by using a barrier-repairing moisturiser after retinal or, in cases of continuing irritation, by reducing retinal use until your skin can adapt.
What should I look for in a good retinal product?
A good retinal product, like Medik8 Crystal Retinal, contains calming and hydrating ingredients like Hyaluronic Acid, Vitamin E and Glycerin. Combined with retinal, they help to reduce irritation and moisturise the skin, delivering optimal results.

Skincare ingredients to pair with retinaldehyde
When using retinaldehyde (also known as retinal), pairing it with soothing, skin-repairing ingredients is vital.
A peptide serum and a great barrier-repairing moisturiser are great partners to your retinal routine. Apply a few minutes after your retinal (Liquid Peptides first, then Advanced Night Restore) to hydrate, repair and balance the skin and help counteract any potential irritation.
Tips for incorporating retinal in your skincare
Before deciding to use retinal, patch test first. Once this is done, start with a slow and steady approach.
Use your retinal of choice twice a week for the first two weeks. Then build up to every other night for the next two weeks, and finally to every night.
If at any stage you experience sensitivity or feel like your skin needs a little longer to adapt, stay at the frequency that's comfortable to you until your skin has adapted, and then increase.
When to apply retinal in your routine
Use retinal at nighttime after cleansing, on completely dry skin. Apply a pea-sized amount, spread evenly over the face and neck, and then follow with a gentle, hydrating serum and barrier-repairing moisturiser to reduce any potential irritation.
Medik8 skincare products to use with retinal
Follow your retinal application with Liquid Peptides and Advanced Night Restore Cream to help hydrate and moisturise the skin, repair the skin barrier and reduce chances of irritation.

FAQs
Is retinol the same as retinal?
No, they are different molecules and work at different strengths and speeds. Read about the key differences between retinal and retinol here.
Is retinal as good as retinol?
Retinal and retinol both deliver similar results but work at significantly different speeds. This also correlates directly with how irritating they can be to some.
Retinal is a stronger retinoid and works faster than retinol, delivering more elevated results. It can be irritating for some. Retinol is less potent and less irritating but delivers results at a slower pace.
What is the retinal effect on the skin?
Retinal dramatically improves the skin's appearance and helps to promote healthier, more balanced skin.
Retinal improves skin texture and reduces the appearance of pores, fine lines and wrinkles. It also helps to bring down inflammation, improves the appearance of acne scars and pigmentation and stimulates collagen and elastin production – resulting in smoother, firmer, brighter-looking skin.
Should you start with retinol or retinal?
Retinal is generally well tolerated, especially if you start with Crystal Retinal 1 or Crystal Retinal 3.
However, if you are a superfan of retinol or have tried retinal and find it significantly irritating, Intelligent Retinol from Medik8 is a great option. A more traditional serum with a dropper bottle applicator, Intelligent Retinol is well tolerated and available in three different strengths.

Can I use retinal every night?
A slow and steady approach to introducing retinal is the way to go. Start using it twice a week at night for two weeks, building up to every other night for two weeks, and eventually to every night.
What is the difference between hyaluronic acid and retinal?
Hyaluronic Acid is a humectant that draws in and maintains moisture in the skin. Retinal is a powerful vitamin A and antioxidant that works at a cellular level, helping to improve the skin's appearance dramatically.
Can everyone use retinal?
Retinal is not recommended if you're pregnant or breastfeeding or have an allergy to retinal (or retinoids in general). Excellent alternative options include Bakuchiol, considered a plant-based alternative to retinoids, and Peptides, a hydrating ingredient that also helps to counteract redness in the skin.
What is the most effective concentration of retinal?
With Crystal Retinal from Medik8, there are five different strengths of retinal. These are numbers 1, 3, 6, 10 and 20. Each number relates to the percentage of retinal in each product.
If you don't have sensitive skin and you're not rosacea or acne-prone, the best place to start is at Crystal Retinal 3 or, in some cases, 6. Crystal Retinal 3 is for those who are brand new to retinoids and have never used retinal before. If you have some experience using vitamin A before, then Crystal Retinal 6 might be the best place to start.

If you have very sensitive skin, what is the best approach with retinal?
The lowest strength Crystal Retinal is number 1, which contains 0.01% of retinal. This is recommended for sensitive skin or those with acne or rosacea-prone skin. It's also a great place to start if you have experienced difficulties introducing retinal or retinol into your skincare routine.
How do you know when you're ready to use a higher strength of retinal?
There are two parameters to figure out before increasing the strength of the retinal you use.
The first; how is your skin responding to the current strength you're using? Are you having any signs of irritation? E.g. redness, flaking, stinging or generally irritated skin. If you are experiencing any of these signs, then wait to increase the strength you're using. Stay at your current strength and let your skin get used to it.
Second, if your skin is happy, looking great, and not feeling sensitive or irritated, this is an excellent time to ask yourself whether it's time to increase strength. Are you still seeing results? Do you want to move up a level? Or are you happy with the results you have achieved (and are continuing to achieve)?
I hope this guide to retinaldehyde is helpful and will help get you started on your retinoid journey 🙂
Browse the other skincare guides on my website here.
This guide was written in partnership with Medik8.
Some of the links in this post are affiliate, including Amazon affiliate links. As an Amazon Associate I earn from qualifying purchases.