I waited such a long time for this palette to arrive in Dubai.
I nearly ordered it a couple of times, mainly from Nordstrom I think, but the shipping charges were just too much. So when I was invited to a mini-event by Smashbox here in Dubai which involved getting my hands on the palette and having a mini eye makeover I was overjoyed.
The little makeover was quite nice and the makeup artist told me, as per Smashbox' new eye shape guide that I have down turned eyes (I actually think they're round, but whatever).
Now, having played around with the palette for the last two (ish) weeks I feel like I'm well equipped to do a proper review so here's my two cents:
1. While the shades are beautiful and I love the day-night options, I think they are all a little bit powdery and require some building. Definitely no massive dollop of pigmentation like you usually get from UD palettes, or similar.
2. The shimmer shades are a bit disappointing and seem to have no actual eyeshadow base to them, if you know what I mean – they just seem to be made up of very fine glitter.
3. The double ended brush that comes with the palette is sensational.
As for the rest of my face, well I just troweled it on.  I find that the hotter it gets here, the more makeup I wear. Makes sense doesn't it? Not really 🙂
Collection (2000) Lasting Perfection foundation is on my face. I mentioned this in my big beauty haul video back in March and I'm still loving it now. Full coverage, thick and creamy, long-wearing and with a nice finish. I'm using 3 Cool Beige which is a little bit yellow for me so I've been adding a few drops of Bourjois CC Cream to even it out.
Two or three of the neutral shades from the Smashbox palette are blended on my eyeballs with a little bit of the gold shimmery shade underneath, along with L'Oreal 4D Architect Mascara (completely addicted to this), L'Oreal Perfect Slim Liquid Eyeliner, Collection 2000 Lasting Perfection Concealer, a bit of Bobbi Brown Corrector in the inner corners of my eyes and MAC Spiked Brow Pencil in the ol' brows.
I added a little bit of No. 7 Pop & Glow in Classic Rose to my cheeks and YSL Rouge Volupte lipstick in no.9 to my gob to finish.
Now, I want to quickly touch on the subject of textured hair. As many of you know, I am obsessed with Oribe. Obsessed. I have however, been branching out during Oribe dry spells to attempt to find a replacement/alternative and I think I'm getting pretty close.
A new range from L'Oreal landed on my doorstep the other day called Wild Stylers, and in that range there's a product called Next Day Hair. The idea behind it is that you have two day old hair and you can't be arsed but you still want it to be big and textured, right? So, you spritz this into the roots/mid-sections (it's a really, really, fine mist) and then style as normal and BOOM, big textured hair.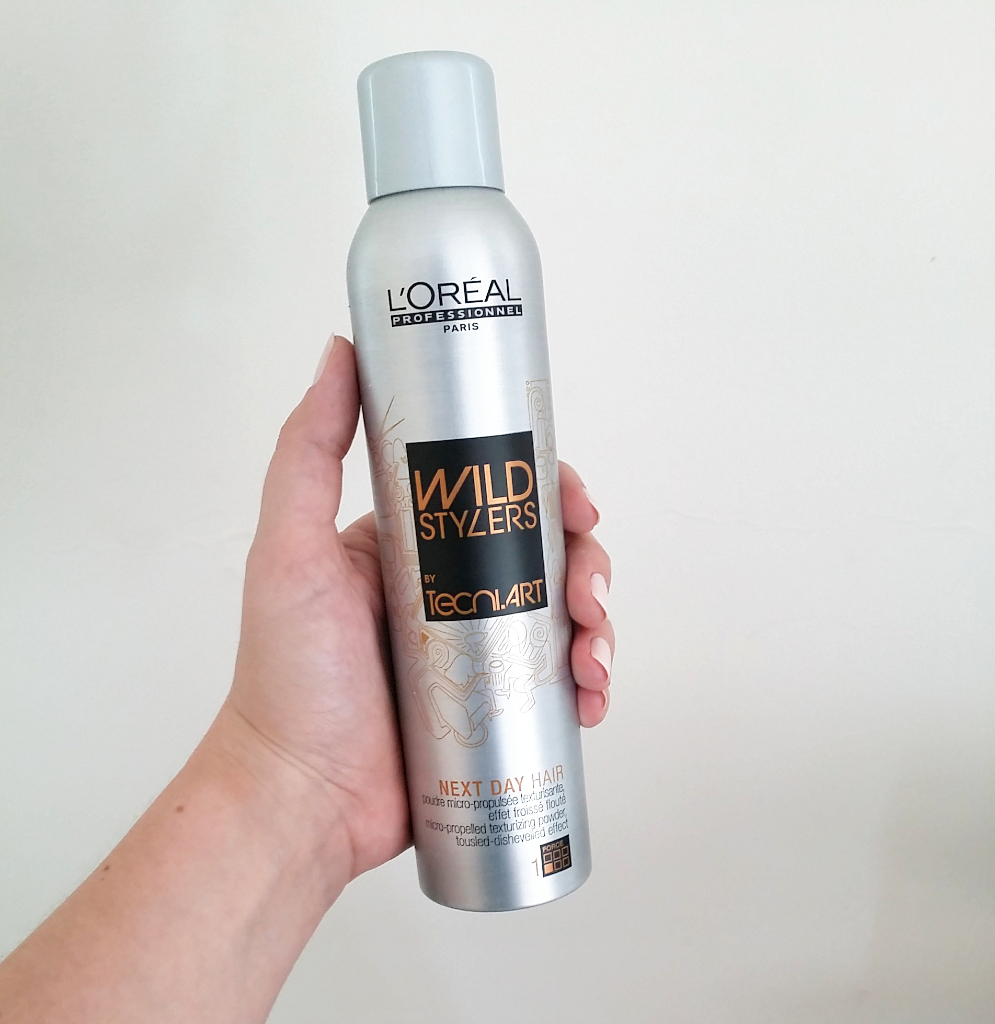 I have to say, it's actually really, really good. It's so good that I took a moment at 8am this morning to take a picture of it, send it to Laura and tell her that all was not lost (during Oribe dry spell).
There are a couple of other products in the range too, namely a styling cream thing and another version of texturising spray which I'm planning to try later this week, so watch this space! 🙂