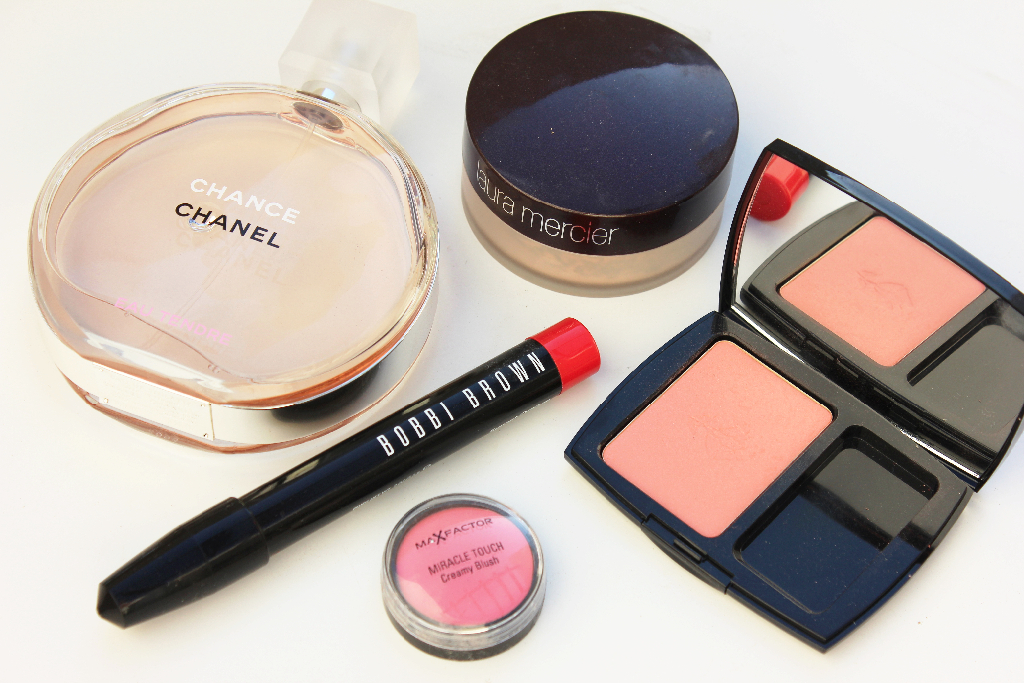 I was going to call this post five things you should buy this month, but then I thought that was a bit silly because I rarely buy five products a month myself! More like er, seven (joke).
Seriously though, I only buy one or two new products every month and even that has slowed down a bit now as we start to move into the sweaty Dubai summer. When I'm not buying however, I'm organising and right now it's all about getting my spring/summer makeup routine down. Here's what has made the cut:
Bobbi Brown Art Stick in Sunset Orange Oh lord, this is amazing. I think (prepare yourselves) that this has replaced Nars Red Square in my affections… I know. The formula is just so creamy and amazing and it lasts quite a bit longer than Nars and the colour is just summer all over (full review and swatch here).
Lancome de Corail blush I go through phases of being obsessed with coral blush and this is one of those phases. This is the perfect shade (think sun-kissed/glowing) and I really love the smooth matte finish it provides. #winning
Max Factor Miracle Touch Creamy Blush in Soft Pink Another blush but in cream format. You know when you're really tanned and you want a natural rosy flush on the cheeks that's not flat or too dewy and lasts ages? This is it. I shall be taking this everywhere. It's a total 'handbag adventures' kind of product.
Chanel Chance This is a recent discovery (I know, where on earth have I been?) and in typical Simone fashion, I like it so much that I'm wearing it all day every day. It feels like a real grown up fragrance, and the delicate mix of citrus, woody and sweet notes make it just glorious to wear and the perfect weight for summer.
Laura Mercier Mineral Powder I've mentioned this numerous times on the blog recently but I'm going to harp on about it again now as this will no doubt be my saviour in the coming months. It's light enough to set beautifully over liquid foundation, reduce shine and to add a little bit of extra coverage but it's heavy enough to be worn entirely on it's own too. The feather light formula means that's it barely a whisper on the skin but it's unbelievably effective. Honestly, I don't know how I have done without this for so long. A holy grail product if there ever was one!
And there we are. A long rambling post about the products I think everyone should have in their makeup arsenal over the coming months. What are your spring/summer makeup favourites? Let me know if I'm missing out on something! 🙂