Yesterday along with some friends, I headed off to Jarada Island, just off the coast of Bahrain. It's a tidal island which means it only appears for a couple of hours every day and as a result, there is not a tree or bit of shade to be seen unless you provide your own. The temperature was estimated to be 46 degree's celcius by early afternoon so I pulled out the heavy duty sunscreen and other heat busting products to help me get through the day without looking like a lobster by the end.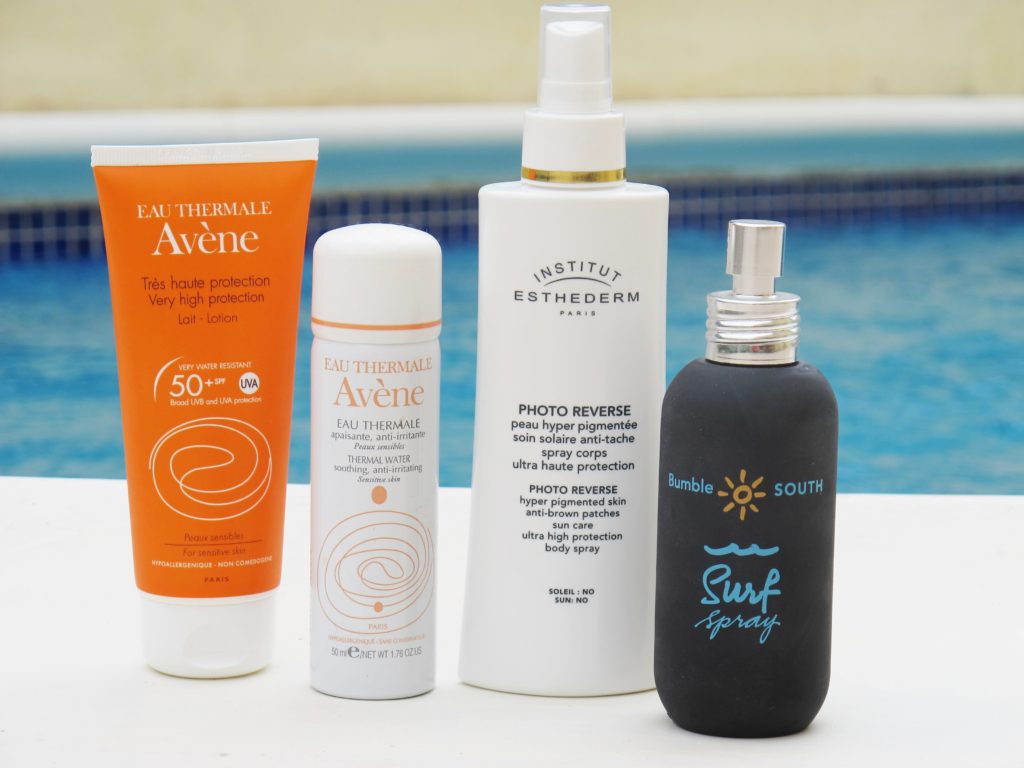 I opted for Avene Very High Protection Lotion SPF50 for my face and neck, I've tried the emulsion version of this before but couldn't get on with it so started using the lotion again. The formula is quite light and it sinks quickly into the skin without leaving a white cast. It's also very waterproof so I was able to happily frolic in the sea without worrying about it coming off. I threw a mini bottle of their Thermal Water in my handbag too to give my skin some relief during the day, I love using this! It's so incredibly refreshing and lasts for ages.
A new addition to my sunscreen arsenal is Photo Reverse Body Spray by Institut Estederm. I interviewed Lisa Eldridge for work a couple of weeks ago and she recommended the range, which I had never tried. Apparently it's great for pigmentation and patchiness on the skin caused by sun exposure and provides a high level of sun protection without providing a specific SPF level, which is interesting. Amazingly, after 4 hours in the heat yesterday I had no redness or sunburn of any kind to report and my skin was blotch free, result! I'm so pleased with the outcome I've decided to order a few more of their products, even though they're not the cheapest, from www.lookfantastic.com
Lastly, even though it's not skincare, I spritzed my hair with Bumble & Bumble Surf Spray for that beachy wave look so that I didn't have to actually dunk my head in the water. It can be applied to wet/damp hair and lasts pretty much all day without making your hair look greasy, it smells pretty nice too!