Hello Dublin, let's be friends.
Disclaimer: this post was written under the influence of Wolfblass. I may sound occasionally sound overenthusiastic.
Well, what can I say? It's been a long time.
Who even blogs anymore? 🙂
I was on the blog today tinkering around after a WordPress update and I thought, why not stick up an ol' post? Give the old girl some love.
I have so much to say, and it involves all of my favourite things; nails, hair, makeups and online shopping.
First things first, let's discuss the obvious. I am not in Dubai, I am in Dublin. And I have in fact been here for some time.
I will be going back and forth to the sandpit, but for now I am firmly ensconced in Dublin's fair city.  And it feels good. I keep saying 'yeah, I'm back home' but Dublin is not home, really. Galway is home. Living here is a bit shiny and new.
It's only in the last couple of weeks that I've started to recognise places and figure out where I am (thank you for that, Google).
Much of this has come from the many trips I've taken in search of good coffee however, and er, good nails.
As my friend Dee said; I'm on a tour of all the nail bars in the city.
I've visited chains, tiny salons, and had my nails done by lovely freelance ladies, but I think I've finally found my girl.
Sarah Gaynor works out of Claudine King Brows & Beauty on South William Street. I found her on Instagram and after stalking her work for a while, decided she might be the nail girl for me.
She did my nails in the main picture of this blog post, and they are sensational. Thin, durable, natural-looking, and I was in and out in 40 minutes. 40 minutes! Unheard of in the sandpit 🙂
She charged me 55 euro for a brand new set of hybrid gel/acrylic nails and gelish, and it was worth every penny my friends.
The place I had been to previously did such a bad job that she had to completely remove them and start again. Eeek.
If you decide to visit Sarah, tell her I sent you. But don't tell anyone else. Let's keep her a secret 🙂
Now, on to hair. To be fair, I've only been to once place since I've been home. And that's Hessions in Clontarf.
My friend Sinead recommended them to me, and after two visits, I can now say I'm definitely a fan.
The salon is lovely, I want the receptionist to be my best friend, and Sinead, one of their stylists, is a wizard.
I had my roots and balayage sorted out, then I went dark, and next week I'm er, going back to balayage… 🙂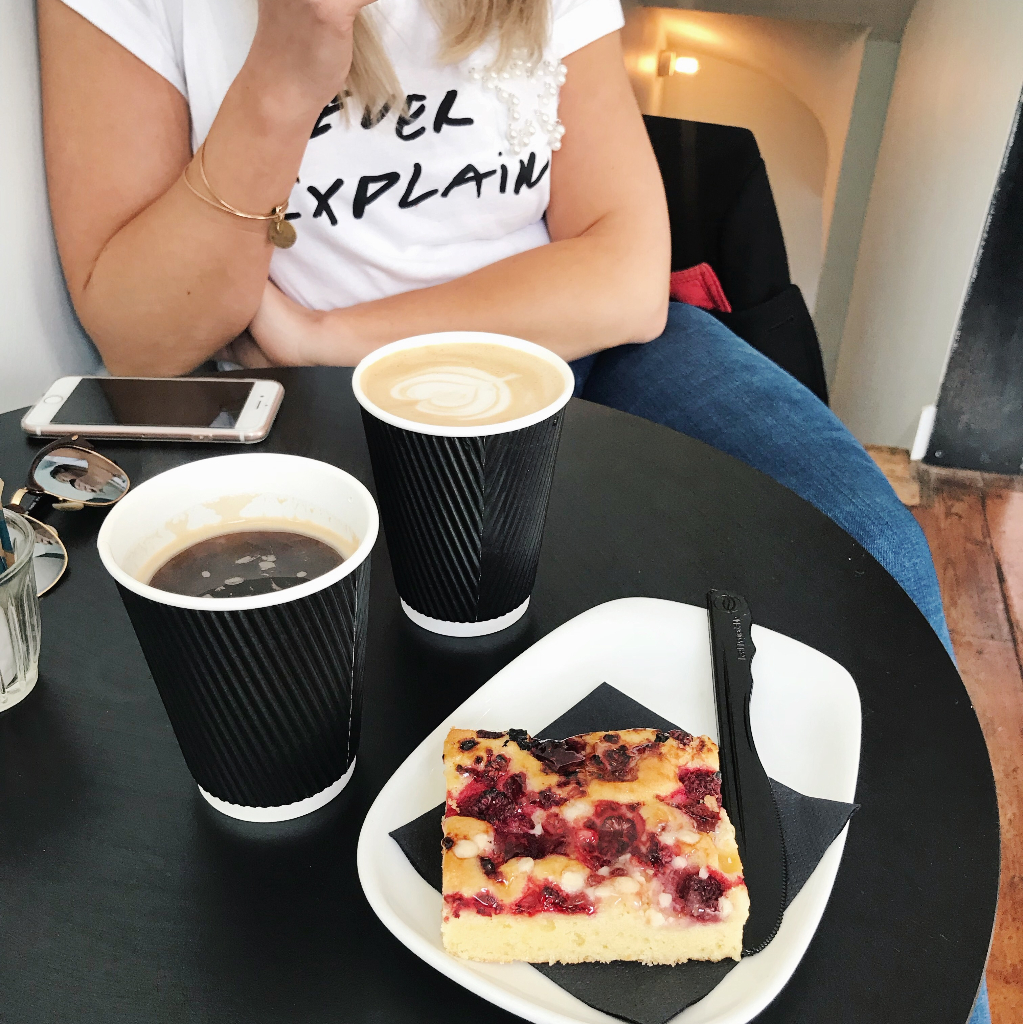 And lastly, let's talk briefly about my most favourite thing – coffee.
That's my friend Jenny in the picture. Hi Jen!
This picture was taken in Kaph, on Drury Street, which Jenny told me about. One of my favourite places for a brew.
Other places I love; Ebb & Flow in Clontarf, First Draft in Temple Bar, and 3FE in Grand Canal Dock.
I'm actually spoilt for choice when it comes to good coffee in Dublin, which is just wonderful. I plan to visit all the places, meet all the people, and drink all the coffee in the coming months. Woohoo!
I'm going to leave you now, to drink more Wolfblass, and return to season two of Power on Netflix (so good).
I'll be back again soon as I want to ramble about the many makeups I've bought since I've been home.
Bye for now, and thanks for reading! x
Save
Save