Who doesn't heart a lovely collection from Bobbi Brown?
That's the word that came to mind when I clapped eyes on this collection: lovely – the shades created for the eyes, lips  and cheeks are all soft and beautiful, with a little bit of shimmer.
It goes without saying that the first thing that went on my face was the Shimmer Brick. I really, really love Bobbi Brown Shimmer bricks (like, really). I have owned nearly all of them at one point or another, but I have a particular soft spot for Pink Quartz. This new one, Sandstone, is more of the same deliciousness and gives the most beautiful warm shimmery glow to the skin without looking mucky.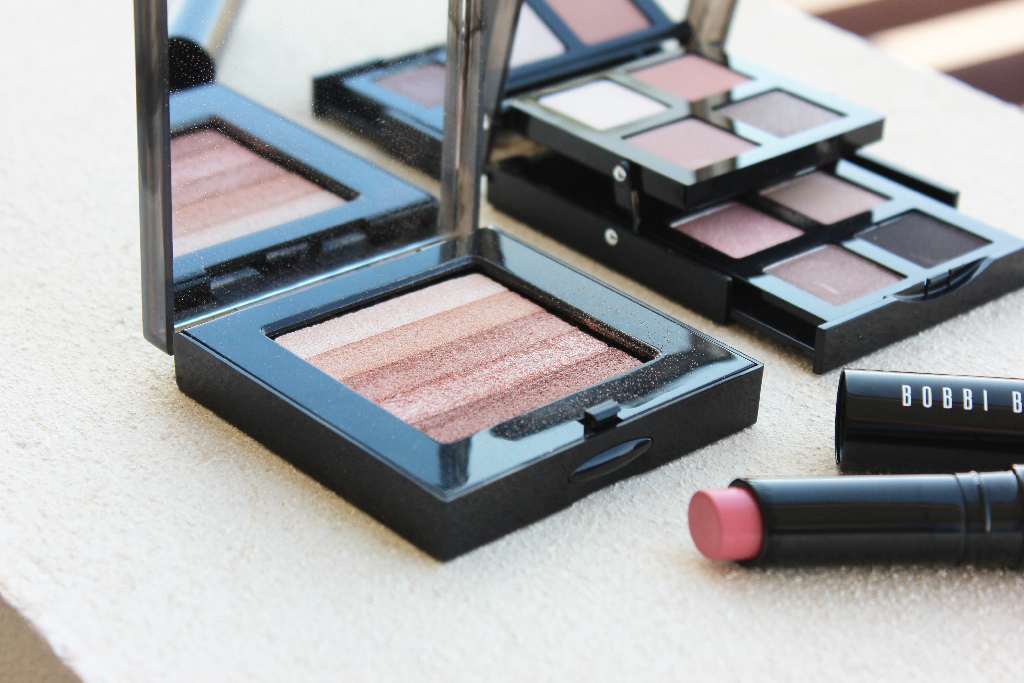 The eyeshadow palette doesn't disappoint either. I spent an absolute age doing my eye makeup this morning because of this! A lovely mixture of matte and super shimmery minky, taupey, nude shades.
I used the beige/white shade (Cream) under the brow bone and the soft warm brown on the bottom left (Smokey Brown) all over the lid. And then I blended a teeny bit of the grey-toned sparkly brown (Silver Brown – top row, bottom right) in the crease and on the edges of the eye. The texture of the shadows is really gorgeous – not too much pigment that it goes everywhere but enough that it gives a good punch of colour. They all blend beautifully too.
I have used a lot of Bobbi Brown palettes in my time and this is honestly my favourite. I love the mixture of shades so much – and as I'm trying to whittle down my makeup to a few classic/capsule type pieces (Ha! As if that's going to happen) this ticks all the boxes.
I need to give the lipstick a mention too. There are four creamy matte lippies in the collection; Pink Nude, Nude, Soft Nude and Warm Nude. I'm wearing Pink Nude in the picture below (along with everything else I mentioned above).
Now, although the texture of the lipstick is very nice and quite long-lasting, I'm just not a nude girl. I can't do it. It's statement lips, relatively pigmented gloss or nothing for me. No nudes. I think they make me look washed out and boring. Know what I mean?
So there we are – my (rambling) views on the Bobbi Brown Smokey Nudes Collection. It's on counters in Dubai now or available online from Bobbi Brown.
Have you tried anything from this collection yet? If not, and you're planning on buying one thing – make sure it's the shimmer brick! 🙂