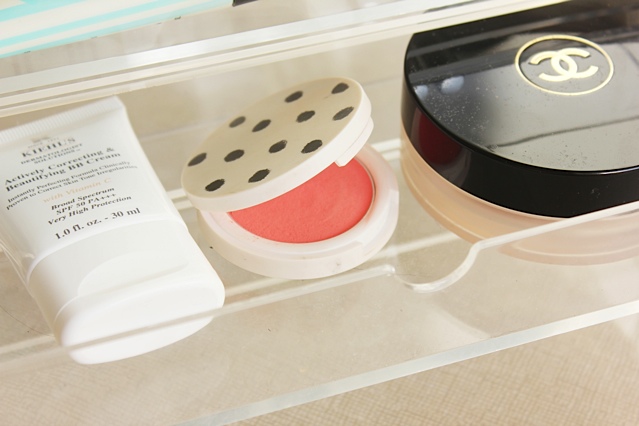 I thought I'd do a quick update on what products I'm loving right now, as a lot of what I'm using has changed dramatically in the last couple of months.
I'm all about good skin at the moment, with a nice dewy finish. My skin is quite dry so I've been using a lot of liquid and cream products. For everyday use I love Kiehl's BB Cream, I did a full review of it here so I won't go on too much suffice to say it's my favourite BB cream of all time. For evening and for medium to full coverage days I've been using Chanel Vita Lumiere cream compact. I only picked this up about 2 weeks ago and honestly, I absolutely love it. I love the texture, the coverage, how it feels on the skin and it looks so beautiful when it's on – like my own skin, only 10 times better! I also love throwing it in my handbag for a night out as it's perfect for touch ups.
As far as bronzing goes, I'm using Chanel Soleil Tan de Chanel – I gave this a rather mediocre review when I first got my hands on it but we've since had a heart to heart and I think we understand each other better now. That, and that fact that I'm all about being tan these days! My blush of choice is a beautiful cream blush from Topshop called Neon Rose, I apply this with a stippling brush for a nice bit of sheen on the cheeks and it usually lasts all day.
I blogged about one of Chanel's new collections recently and I'm still obsessively using 'Seduction', a most delicious eyeshadow palette filled with four of my favourite shades. That, coupled with Urban Decay pencils, Clinique High Impact Extreme Volume Mascara and MUFE Brow Gel to shape my brows and you have a perfect combination. In terms of lip products, Bourjois Rouge Edition lipsticks are really floating my boat. I'm using a few of the shades but number 10 is my absolute favourite; it's a super creamy strawberry red that looks gorgeous as a stain during the day or as a full on statement lip at night.
And there you have it, my current favourites! Are any of your everyday essentials in there?