A couple of things were happening while these OOTD pictures were being taken.
1. I realised my skirt was slightly see-through 2. It was so bright outside that some of the pictures came out with me looking rather smug when actually I was just squinting really, really hard. 3. I had to pull my hair off the back of my neck several times (case in point, the second picture) as the feeling of it being stuck there was totally gross and 4. I clearly am unable to take pictures that actually show my shoes.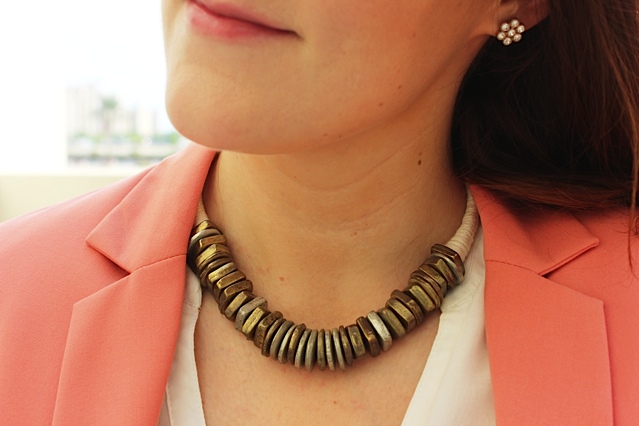 This was another work outfit. The lace skirt is by a company called Darling and I got it from ASOS. It's extremely light and particularly excellent in ridiculously hot weather. It's slightly high-waisted with an exposed zip at the back which I kind of love. Ninety per cent of the time I wear it with this blouse from Zara or with a denim shirt. The blazer is a recent purchase from Topshop but appears to be sold out online. It's lovely and light but structured at the same time – and who doesn't love a bit of shoulder pad action? The colour is what drew me to it and I wear it with literally everything I own. I would probably like it more if there was a button on the front but that's just me being old-fashioned!
The cord coin necklace is also from Topshop and even though you can't see them, I wore tan wedge heels from Carvela by Kurt Geiger. Bizarrely, I also bought them from Topshop, here in Dubai. Do Topshop normally carry KG? I thought it was a bit odd that they had a KG stand in the store…
Anyways, that's all for now! I'm off to watch a couple of episodes of Scandal as I have become even more addicted than before, if that's possible! Hope you are all well and happy 🙂
Save