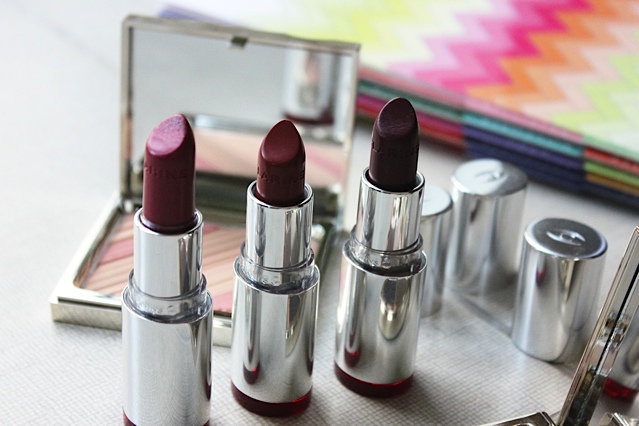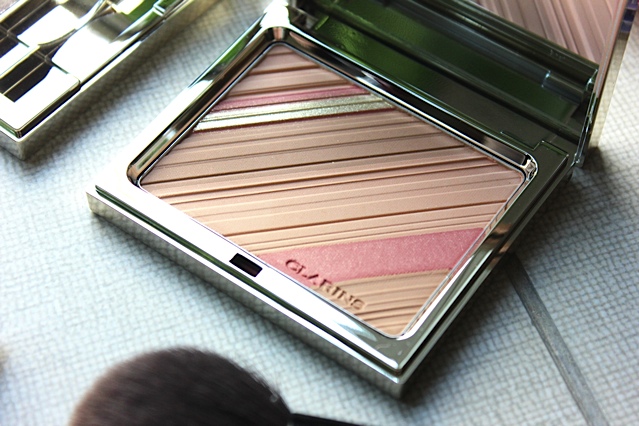 The Clarins Autumn 2013 collection arrived at my door earlier this week. Clarins describe it as an innovative, modern collection that will appeal to every woman. It's all quite lovely as we've come to expect from Clarins but some of the products are particularly noteworthy.
First up, the eyeshadow palette. It's an Eye Quartet Mineral Palette in shade 11 Forest and it's very beautiful as you can see. There are some delicious and quite typical Autumnal shades inside, each softly pigmented with a slightly shimmery finish. The Jolie Rouge lipsticks are also quite delicious; three gorgeous, wearable shades that are impressively pigmented and have a moisturising, lustre finish. They also smell absolutely divine. Royal Plum is particularly beautiful, a deep burgundy shade that is perfick for the statement lip fans among us. I'm wearing Pink Camellia in the picture above, a deep rosy pink – a nice one for every day.
The face and blush powder also deserves a pat on the back. It's called Graphic Expression and comes off as a soft coral/pink. In the close up picture above you can see a thin line of fine gold glitter in the top left corner of the palette. When you swipe a brush across it for the first time this comes apart and splays all over the palette leaving a fine layer of gold flecks. Amaze!
The rest of the collection is composed of super smoky kohl liners, mascara, eye primer, their famous three dot liner and some more lipsticks. It's available on counters everywhere right now or online from HOF and Nordstrom who both ship worldwide. I slapped the lot on my face in the name of research and I'm actually quite pleased with the results as you can see from my smug expression above. Ha!
What do you think of this collection? Will you be paying a visit to the Clarins counter? To the comments!