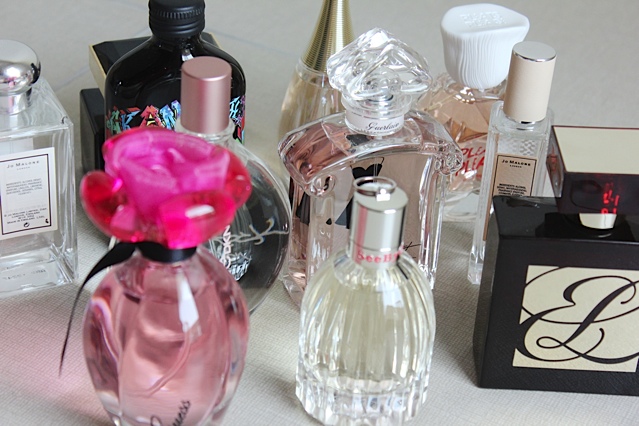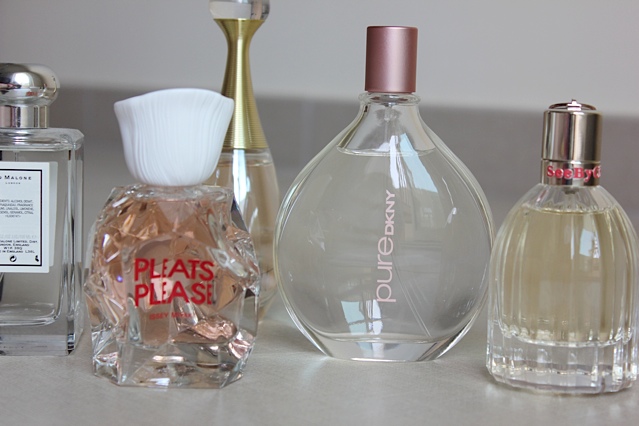 Ah fragrance, something that I never had much interest in has now developed into something akin to a small obsession. It started off with a few gifts here and there, then I got a few samples from brands, then I hit up duty-free a few times and now, well – lets just say I have difficulty walking past any outlet that sells smelly stuff.
The above collection of images are some of the latest and greatest fragrances to grace my fragrance er, shelf. Yes, I have a shelf. There are quite a few so I'm going to try to keep this as brief as possible; a little round-up of each shall suffice I think!
Jo Malone Earl Grey & Cucumber Cologne Currently one of favourite fragrances, this offering from Jo Malone is incredibly fresh and clean with cucumber taking precedence over the Earl Grey notes. I get so many compliments when I wear this as I think it's such an unexpected scent, so of course, I wear it all the time! Love love love. Also, I'm on the hunt for the candle now.
See by Chloe A recent acquisition, this fashion house fragrance is not what I expected. I thought it would be strong and quite overpowering but it's the complete opposite; quite light, slightly sweet and very fruity. Perfect for hot days in Dubai. I reach for this a few times a week at the moment.
Issey Miyake Pleats Please I was incredibly loyal to L'eau d'Issey in my teenage years so I was excited to try this – especially when I saw the amazing bottle! Surprisingly, I'm really on the fence about it. It's very very powdery, quite heavy and it lingers on the skin for what feels like hours. The main note I get from it is pear, which isn't one of my favourite fruits. I think I need to wear it a few more times before I completely make up my mind…
Dolce & Gabbana The One Desire I couldn't love this fragrance any more if I tried. Initially, I reserved it for evening use as it's quite strong but now I'm all over it, any time of the day or night. It kind of smells like dark, sensual fruit (swit swoo!) and caramel. It's really interesting melange of notes and I adore it. I'm wearing it now while writing this post!
Jo Malone Ginger Biscuits Cologne Another firm favourite, this one is from the Sugar & Spice collection. It smells 100% like ginger biscuits – that might sound odd but trust me, it's SO GOOD. It's deliciously subtle and not at all overpowering and it makes me want to eat ginger biscuits every time I wear it. I can't recommend it enough. Divine. (Also, I've just discovered Elderflower & Gooseberry Cologne from the same collection and it's to.die.for)

Pure DKNY Another fragrance house that I had quite good relations with in my teenage years. I expected to love this but unfortunately, it's more of a mild like. It's a very light, very watery fragrance and I'm not kidding when I say it's like spraying water on your skin, albeit water that whiffs slightly of vanilla. I know a lot of people will love this but it's a little too light for me.
J'Adore Voile de Parfum Dior An extremely ladylike, glamourous fragrance – this reminds me of something my Mom would wear. It's slightly musky and flowery but not overly so. It's more like a mist, if that makes sense, like a general veil of fragrance – not too strong or sweet, just really balanced and feminine. It's one that you need to have a whiff of and then you'll see what I mean.

CK One Shock Ah CK One, I remember the days when I practically showered in this stuff. Every single one of my friends had it when we were in school and we thought we were so unique, ha! Shock is quite oriental and a bit of a departure from the original formula, it's kind of spicy and citrusy at the same time but still very fresh. It was on my side of the bathroom originally, but now it's on my husband's side. Funny that…

Guess Girl This is another one I'm on the fence about. It smells like sandalwood mixed with raspberries, not an unpleasant combination but one that gives me a headache when I wear it. I've tried spraying it close to and far away from the skin but it just doesn't do it for me. I want to love it, especially because the bottle is so cute and girly but I just can't. Funnily enough, after a few goes I gave it to a friend of mine and she has declared it as her all time favourite fragrance!

Estee Lauder Amber Mystique This is an interesting one. Created primarily with the middle eastern market in mind and launched here first, it's strong with the main notes being amber, oud, rose, pink pepper and leather. I really didn't expect to like this as I don't usually get on with oud, but after meeting the perfumer, Honorine Blanc – who gave me a whiff of each individual note involved and explained how to recognise each note, I love it. It's absolutely delicious – a funny way to describe a strong oud-based fragrance I know but go have a whiff of it and you'll see what I mean.
Guerlain La Petite Robe Noire This is an absolutely gorgeous, super feminine fragrance that gets better the more you wear it. It's sweet without being too heavy and it smells faintly of liquorice and berries. It's a funny way to describe a fragrance, but it smells like a deliciously sweet syrup, and how can you go wrong with a fragrance that smells like sweets!

So there we have it. A brief(ish) round-up of some of the latest fragrances. Are any of these in your collection? And what's your favourite scent at the moment?