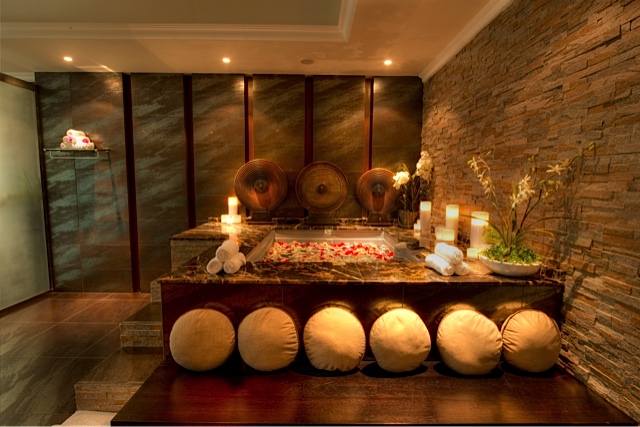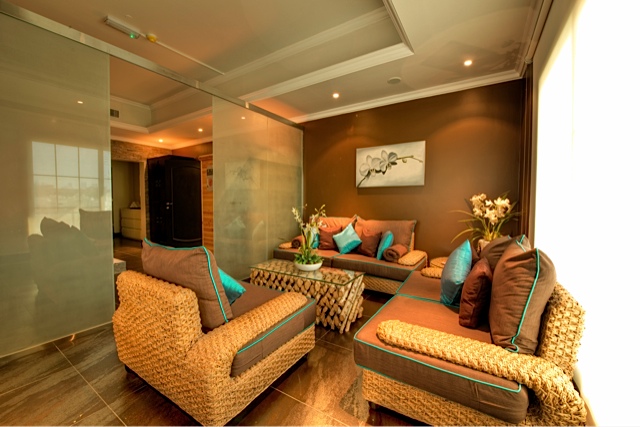 I took myself off to De La Mer Day Spa on Jumeirah Beach Road recently to check the place out and have a pampering session. It's a newly opened ladies only day spa that offer everything from hair and nail treatments to deep tissue massage, body scrubs and facials all under one roof.
It was pretty easy to find as it's a little further down the road from the Burj Al Arab and it's in one of those lovely big villas on Beach Road. My booking was for 10am so it was very quiet when I arrived, only a few staff were knocking around and one of them was mopping the floor – I have to admit this put me off a little as in my mind, that doesn't scream luxury spa. I was offered green tea, slippers to change into and asked to take a seat for a few minutes until my therapist was ready.
She came downstairs at exactly 10am, introduced herself and brought me upstairs to a changing/relaxing room to get ready (the first picture above). The room blew my mind a little bit I have to admit – it was huge with a massive jacuzzi and beautiful seating area. Now, I have never had a scrub before so when I saw the bath I thought 'my god do I have the scrub in the bath?! That's a bit awkward' – hilarious I know. Happily, once I had changed and thrown on my robe I was brought into a dinky little treatment room to begin the scrub. The therapist explained that the lavender seeds, sugar cane and seaweed (which was from Ireland!) would be combined to both exfoliate sooth and soften the skin. She was very methodical with the scrub, working her way around in sections making sure no patch of skin was missed. The application was pretty vigorous but not uncomfortable and in total it took about one hour. Because of the sugar, the scrub was incredibly sticky and when I turned over halfway through the sheet had to be peeled off me as I was completely stuck to it.
Once the scrub was finished I hopped into the shower – which was in the treatment room, to wash it all away. Once I had washed it all off I couldn't believe how soft my skin felt. Truly, I felt like I had just shed a layer and was left with this incredibly soft bod. At this point the therapist applied quite a nice body oil  to finish off the treatment – she told me my skin was incredibly dry, although free of blemishes (yay!) and that I needed to drink a lot more water (whoops). She then brought me back to the changing area where I was deposited in the seating area, provided with a cup of hot ginger tea, some vegetable sticks and told to relax.
All in all the treatment took 1 hour and 30 minutes. Although I found it a little long, I can't really complain as the therapist was very good and now, over a week later I'm still feeling the benefits as my skin is so soft and much less dry. The Lavender and Seaweed Sugar Glow Scrub costs Dhs300 but they have a great offer on now which involves a coconut body glow scrub, back, neck and shoulder massage, manicure and pedicure and a 30 minute teeth whitening treatment all for Dhs600 (it's usually Dhs1140). If you'd like to pay them a visit you can visit their Facebook page for more details.