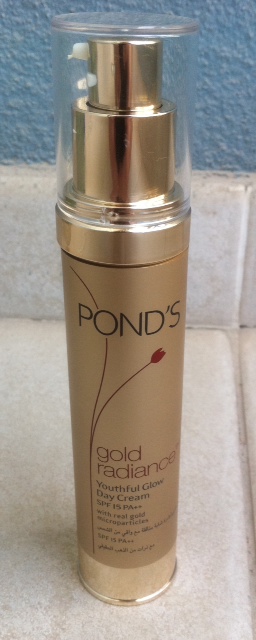 I recently finished up another pot of Estee Lauder DayWear Plus, my current favorite moisturiser and rather then rush out to buy another pot I decided I would bravely sample the Ponds Gold Radiance Skincare range kindly sent to me by Ponds Arabia.  I have a bit of a soft spot for Ponds as it reminds me of my glamorous Grandmother who used Ponds Cold Cream every day of her life, and swore by it. She had incredible skin as does my Mother who also uses it so naturally, I in turn have a pot in my own skincare collection which I use on and off.
Now, I am always a little fearful of trying new products as my skin is extremely reactive and against any form of change in general. Nonetheless, buoyed up by the cross-generational familial love of Ponds I decided I would give Gold Radiance Youthful Glow Day Cream a whirl. It contains real gold particles which claim to reduce the signs of aging, the appearance of pigmentation and with SPF 15+, protect your skin from the elements.
What struck me initially is how light it is on the skin. I expected it to feel quite oily as sunflower seed oil is listed in the ingredients, but this was not the case. It blends very nicely into the skin and leaves a beautiful sheen. If you look very closely you can actually see the gold particles! Impressive! I have been using it for almost 10 days now and I definitely feel like my skin looks more radiant. In general it has also kept my skin nice and moisturized whilst not looking too oily.
Here is a shot above of my left hand with no product and the right with product applied showing the shimmery gold particles.
All in all a bit of a fabby product I have to say, I even like the retro gold packaging! I'm not 100% sure of price but I think its in the region of about 10BD (20euro) for 50ml of product.
Thumbs up!