I was going to blab on about beauty this evening, but then I changed my mind and decided it was time for a favourites style blog post. Favourite mug, favourite jewellery bits, favourite diary – the everyday things. Know what I mean? 🙂
So without further ado, here are the bits and pieces that I use, wear and reach for every day. Some have been around for months, others a couple of weeks, and some just a few days, because I'm fickle like that 🙂
Anthropologie Monogram Mug. This was a birthday gift from Louise and I bloody love it. There's something really appealing about owning a giant mug with the first letter of my name on it, and obviously, it holds an enormous amount of coffee. An ego boost and it involves caffeine – Louise knows me so well 😉
Ban.Do planner. I'm a planner addict as many of you know. I flit between using this one and Erin Condren's version, and the former is currently flavour of the month. It's small and light (and pretty) and I love the illustrations and stickers inside, plus it helps keep me organised (duh). To be fair, I pretty much love all things Ban.do, though. I usually buy their stuff online from ASOS, although I have seen them in Virgin Megastore in Dubai of late.
Aesop Aromatique Hand Balm. Because I'm not getting any younger, I try to religiously use hand cream every day now, and this one is my current fave. Aesop is not the cheapest brand around, but I like this because it's thick and creamy and does the job nicely, and most importantly, the packaging makes me swoon 🙂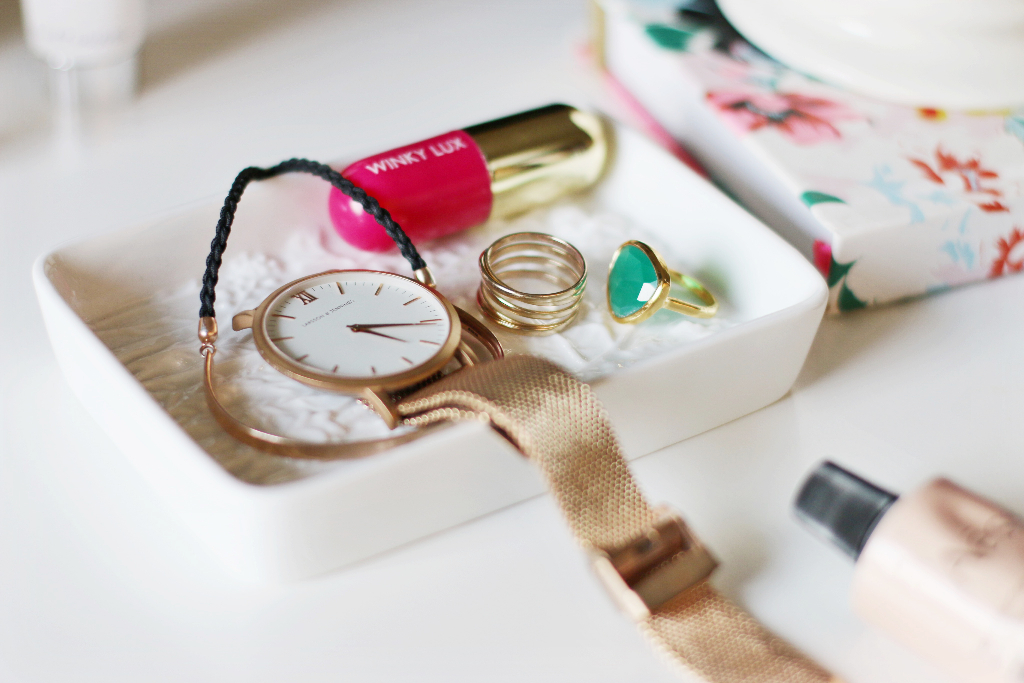 Monica Vinader Siren Ring. This was a sale purchase from Net-A-Porter about a year ago and it's now a solid member of the everyday jewellery club. I love the stone, the shape, and the fact that it's gold. Everything else I currently wear is either gold or rose gold, too. This ring from Topshop, this Monica Vinader bracelet and this watch by Larsson and Jennings.

Winky Lux Lip Balm. A brand that has only come into my life recently, I'm slightly obsessed with Winky Lux lip balms. Dinky, super smooth and creamy (and cheap!) and there's a flower inside the lip balm. I'm not even joking! Look at this article and you'll see what I mean. Plus it changes colour to match your natural lip colour! Looooove!
Aveda Volumizing Mist. I bought this at the Aveda salon in Dubai last week after one of their lovely stylists recommended it. Even after only a few days use I know it's probably one of the best of its kind on the market. It's incredibly light, non-sticky and leaves no residue, and it does a beautiful job of lifting the hair when spritzed directly on the roots. I picked up a great tip from the stylist I spoke to when I was there, too. After using a volumizing spray and then blow-drying your hair, you should leave the hair to cool for at least 5-10 minutes before running a brush through it. This will help it hold volume/style longer. Genius!
Anastasia Sun-Dipped Glow Kit. Christ, I'm obsessed with this. Literally obsessed! The shades, the pigmentation, the multi-use possibilities – I use at least two shades in the palette every day. Just look at it! Oh. my. god.
And that's it I think. Quite a lot really 🙂
What are you loving at the moment? Be it books, makeup, clothes – I want to know!
Speaking of books, I have three to get through in the next couple of weeks, the first of which is The Wangs Vs. The World by Jade Chang. It has received rave reviews, and I do love a bit of dark humour so I can't wait to get stuck into it.
Hope you're all having a good week and thank you for reading!

Save