This weekend was mainly about breakfast! Here's a little roundup of what we did, where we ate and the new beauty bits I tried out, plus a little bit of online shopping…
No matter how mad the work and school week has been, one of the things we always make time for at the weekend is a nice family breakfast – so that's the first thing we did on Friday. Our current favourite place is newly opened Arrows and Sparrows in The Greens. If you live in Dubai or you're planning a trip here soon, I highly recommend a visit. The food is delicious, the service is great and they do a mean kids apple juice 🙂
Adrian headed off to rugby after breakfast so Charlie and I spent the rest of the afternoon chilling out at home and watching Dora The Explorer. Of course, chilling at home invariably led to a little bit of online shopping because that's what weekends are all about, right?
I'm still 'preparing' for my trip home to Ireland in a few weeks so I picked up some more bits and pieces, including this scarf, this jumper dress (which may make me look like a sack of potatoes, but it's only 18 quid, so…) and this stripey knit. I may have also picked up an outfit for traveling…
Yes, I am one of those people who plans what to wear when on the plane/breezing through airports. I bought a lounge set, and I'm not ashamed.
Save

On Saturday we decided to go mad and head out for another family breakfast, so we nipped down to Eggspectation for grub and a little stroll along the beachfront. You can't go wrong at Eggspectation I feel, as the food/service is generally good – the only thing I have an issue with is the price as it's not the cheapest spot for a plate of eggs…
After that, we nipped into RAW for a coffee before steeling ourselves for the weekly shop in Union Co-Op. If you live in Dubai you'll know that it's an amazing supermarket and great value, but it's always incredibly busy and the aisles are narrow so it can be quite the mission (#trolleywars). I documented most of our shenanigans on Instagram Stories, so feel free to follow along if you don't already 🙂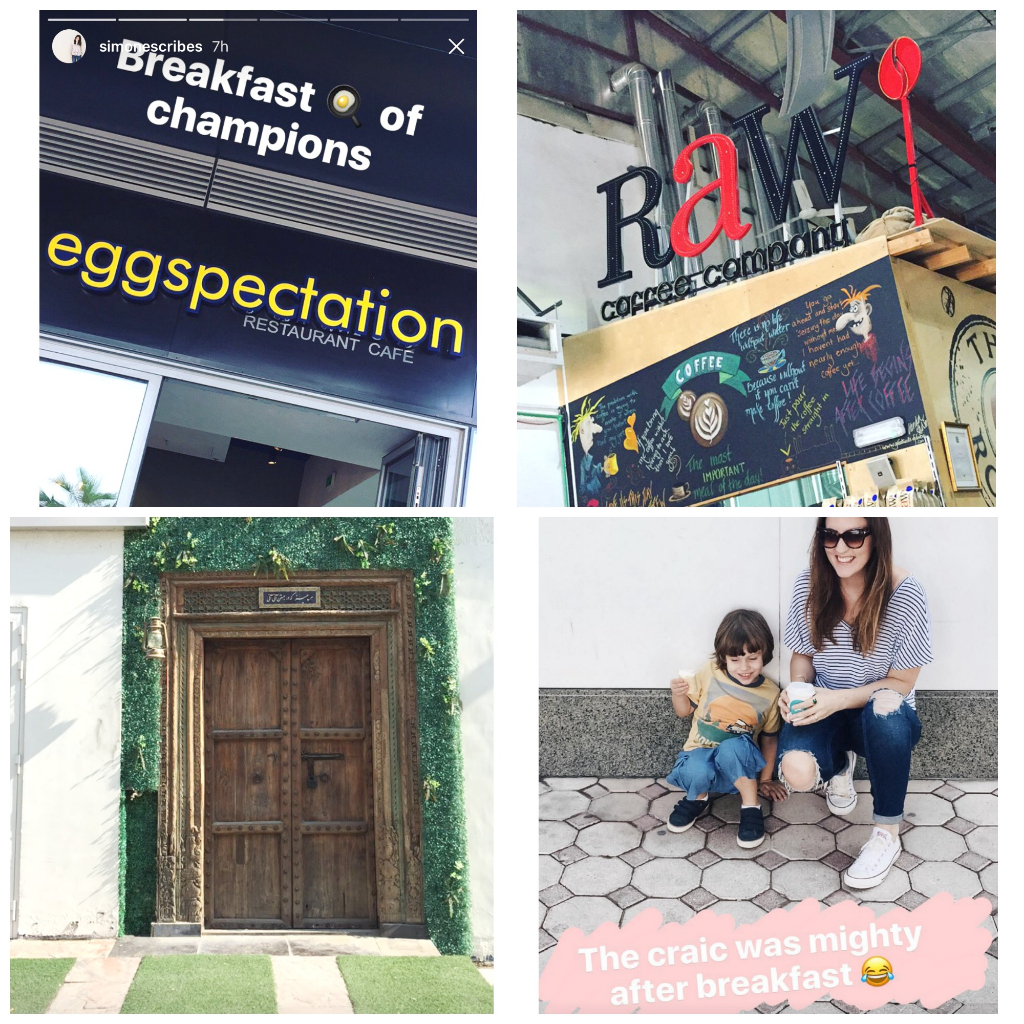 I tried out some new beauty bits from Revlon this weekend, too. Namely Revlon Ultra HD Matte Lipcolor. They sent me two shades to try; Passion and Dévouement, so I duly slapped them on as I'm very partial to a liquid lipstick.
I really like them so far. The formula is lovely and creamy and even though it's matte, it's very comfortable on the lips and moves around a little bit as you wear it, so you don't get that dry/cracking sensation when you eat/talk.
The pigmentation is incredible and the colour payoff is exactly what you see in the tubes above. Out of the two shades, the darker one; Passion, is right up my street. It's a deep pink shade with a hint of berry and although it's pretty full-on, I feel like I can get away with it during the day.
And with that little ramble about lipstick, I think I'm about done here.
One last thing I want to mention is that I attempted to watch the first episode of The Young Pope last night, but had to give up on it after an hour as it was tough going. I'll try again tonight once Charlie is in bed as the first episode is a whopping two hours! It's a little bizarre and the reviews have been mixed, but I quite enjoyed watching Jude Law so I'm going to stick with it.
Thanks for reading as always, I'm really enjoying blogging at the moment so expect another post very soon 🙂
Save
Save
Save
Save
Save
Save
Save
Save