My favourite products from The Inkey List. There are so many, I thought they deserved a whole post!
I first ordered from The Inkey List the week they launched on Cult Beauty in 2018.
A newsletter arrived in my inbox announcing their arrival and I was instantly intrigued by their simple approach to skin and the incredible price point.
Over the last two years, my Inkey List collection has expanded quite a bit. Partly because they continue to be super affordable, and because I love their no BS way of explaining ingredients, but mainly, because their products actually work.
So, without further ado – here is a breakdown of my favourite products from The Inkey List.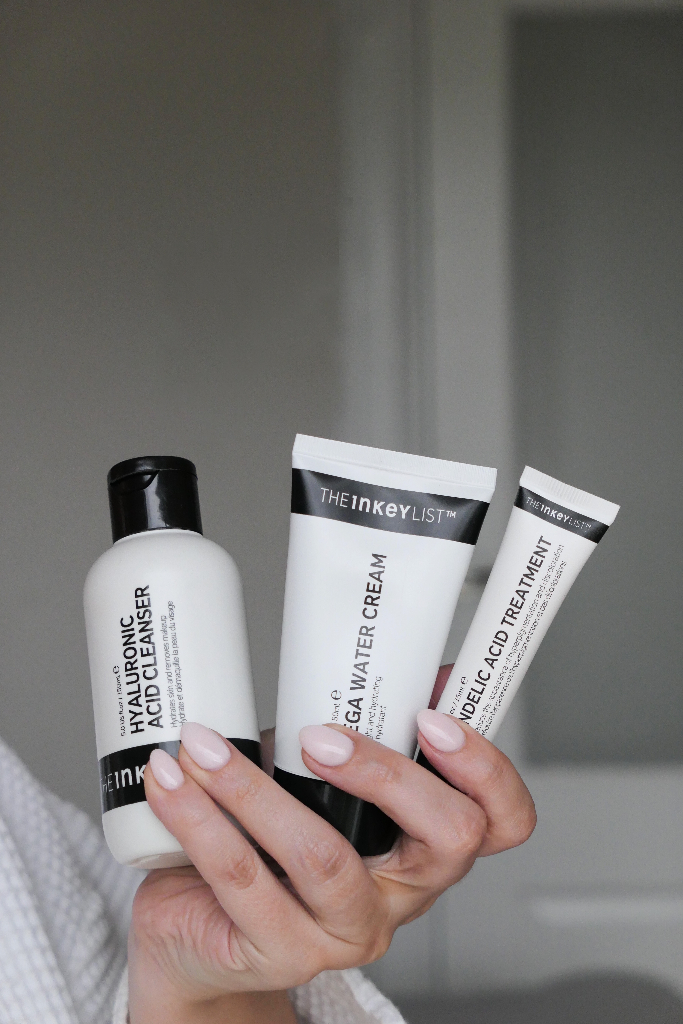 Launched in early 2022 (and exclusive to Cult Beauty for now), this cleanser removes makeup while intensely hydrating your skin. It's gentle, lightweight, suitable for all skin types, and I'm a little bit obsessed with the texture. A true all-rounder.
Another early 2022 launch, Omega Water Cream is lightweight moisturiser with a seriously impressive ceramide complex; prevents water loss from the skin, boosts elasticity, plumps, intensely hydrates. It does it all.
This creamy, hydrating, lightweight cleanser is super gentle, non-irritating, and fantastic at removing makeup. It's particularly great for sensitive skin as it's formulated with 1% oat powder. And guess what? It's €12.99. 
One of The Inkey List's most famous products and for good reason, this is a standout hydrating serum formulated with 2% Hyaluronic Acid. It plumps, intensely hydrates, and works to reduce fine lines and wrinkles. I also find it fantastic for layering with other serums as the formula is so thin.
The original and best of their eye cream lineup (although granted I haven't tried them all… yet), this depuffs, hydrates, smoothes, and helps to reduce the appearance of fine lines and wrinkles.
This serum is a bit of a powerhouse – it's a lot more potent than their original Vitamin C (and a totally different texture). This plumps, protects, hydrates, and brightens the skin, and targets uneven texture, fine lines, and dullness. I feel like my skin looks plumper as soon as I apply this. Read about using Vitamin C in your skincare routine by clicking here.

Created solely to treat pigmentation and skin discolouration, this lightweight cream contains 10% Mandelic Acid and 0.1% Retinol. It gently exfoliates the skin without irritating and encourages cell turnover, resulting in brighter skin. For PM use only.
The first retinol I ever used (and loved) thanks to Mark from The Inkey List. He told me to try this -1% retinol after I explained my sensitive skin was struggling to tolerate 2% and above. This is a slow release retinol formulated with squalane (which hydrates and soothes the skin) so you get all the benefits and none of the irritation. Yes!
My favourite acid. I've raved about this so many times and for good reason. Every time I use Glycolic Acid, I wake up the next day with brand new skin. It gets rid of dead skin cells, retexturises, brightens, gives good glow – it does it all. I use it twice a week, at night, after cleansing.
This a lightweight, super hydrating oil, that I love to use at night after my serums for an extra kick of hydration. It works to reduce fine lines and wrinkles and maintain the skin's moisture barrier, and it feels absolutely delicious on the skin. It's perfect for all skin-types, including dry and oilier skin.
Another intensely hydrating acid, Polyglutamic Acid holds four times more moisture on the skin than Hyaluronic Acid. A more jelly-like texture than HA, this is totally incredible when mixed with foundation, on a longhaul flight for continuous hydration, or as a phenomenal every hydrating serum.
A cousin of Alpha Hydroxy Acid, Polyhydroxy Acid is also an chemical exfoliant that does a stellar job of sloughing off dead skin cells and retexturising the skin. The difference between it and AHAs (and BHAs) however, is that PHA penetrates the skin at a much slower pace, resulting in much less irritation or sensitivity – so it's perfect for sensitive skin, or for those looking for a gentle but effective toner for every day use.
A natural, plant-based alternative to retinol, Bakuchiol is the saving grace for those of us with very sensitive skin, or skin that's prone to redness and rosacea but still want the benefits of retinol. This super hydrating wonder product helps to improve the elasticity of the skin, reduce fine lines and wrinkles, and boost collagen production.