I'm terrible at coming up with shnazzy blog post titles and after much brain wracking, decided to follow on from the previous post of the same title. I'm really getting into the swing of things with summery products at the moment and decided to blog about a few more bits I've been loving. First up is nail polish. If you follow me on Instagram you'll know I love getting my nails done and have been opting for mainly juicy summery shades of late. If it's not shellac it's usually something from Essie as I'm completely obsessed with them at the moment. Two of my faves right now are Turquoise & Caico's and Cute As A Button, above left and right. I got mine from Boots online, but you can also order them from Look Fantastic, they're a little bit more expensive but delivery is free worldwide.
I love a good face mask and this one from Weleda is the business. Smooth and soothing to apply, it's one that you massage into the skin and then wipe off gently with a cotton disk. It leaves the skin soft and refreshed and it's great for getting rid of any impurities left over after you're finished cleansing. I've yet to track down Weleda in the Middle East so I ordered this from Look Fanastic along with Weleda Skin Food. I've only used Skin Food once (to soften the skin on my elbows and was very impressed with the results) as Mr.G borrowed it to use on a burn on his arm and I haven't seen it since. Funny that…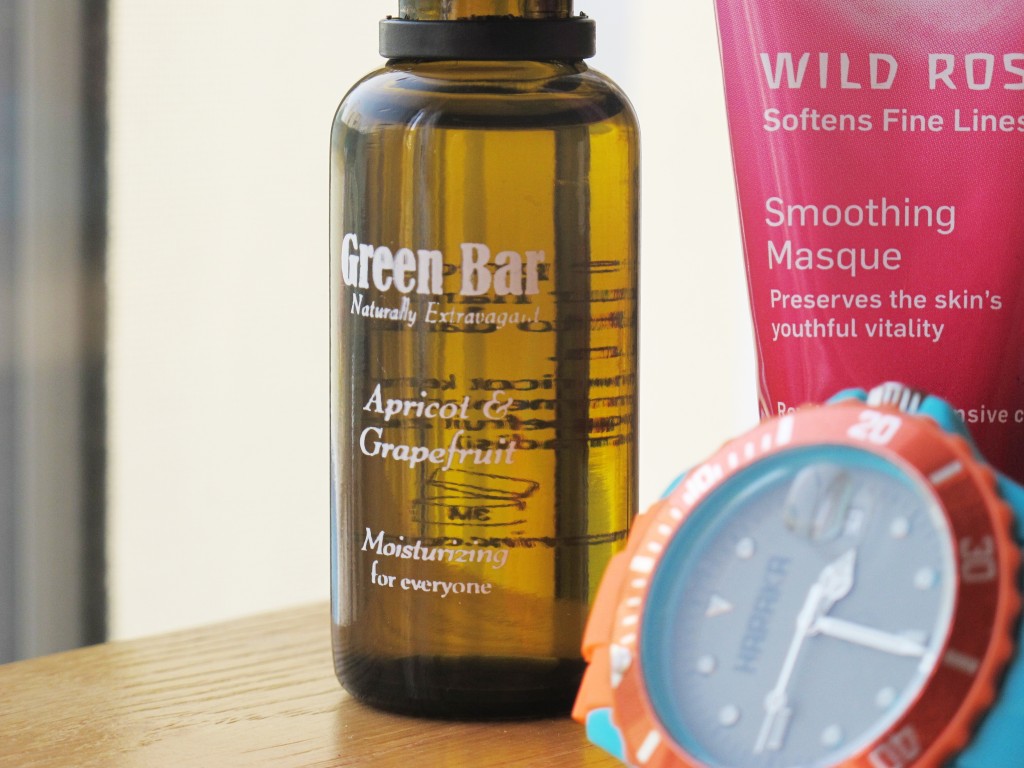 Lastly, I've been going a bit local, as they say. Green Bar is an eco-certified organic Bahraini beauty brand – I've used some of their stuff before with great success, so was delighted to be offered the chance to try their new Apricot & Grapefruit moisturizing oil. It says to rub it into damp skin but I've been using a few drops with my regular moisturizer instead and it's really pretty bloody fantastic. Moisturizing without being too oily and the difference to your skin is almost instant, plus every time I open the bottle I want to drink it, it smells that delicious.
And of course, the watch! Haraka is a new Bahrain-based accessories brand, and their watches seem to inspire lust in everyone who claps eyes on them, me included. Available in a range of colours I went for this gorgeous turquoise and orange one, which is called Rambo #4, but I'm now I'm obsessing a little over the Essie watch too, a super cute multi-coloured version. At 38BD each, they're not cheap but certainly not drastically overpriced, and I haven't seen anything else like them so convinced myself into a guilt free purchase, as I needed it. Nothing wrong with that, right?!