This morning I emerged from a delicious long weekend into a mountain of work and seriously sweaty betty weather. So to make myself feel better, I'm going to tell you a little bit about what I got up to over the last few days… I spent most of Thursday in and around Kite Beach and while it looks pretty scenic, the weather was quite frankly bordering on insane. When I took this picture I was thinking to myself (while wearing all black of course) 'you are insane' – it was 40 degrees Celsius, not a cloud in the sky and I'd estimate that the humidity was right up there too… sweaty indeed.
Anyways, I had an amazing lunch at Kite Beach from Taqado – a fabulous local UAE brand that serves up Mexican street food. The burrito box always goes down a treat, and I can neither confirm nor deny that I finished with churros and chocolate dip… They have 11 outlets in the UAE and deliver too – highly recommend a visit.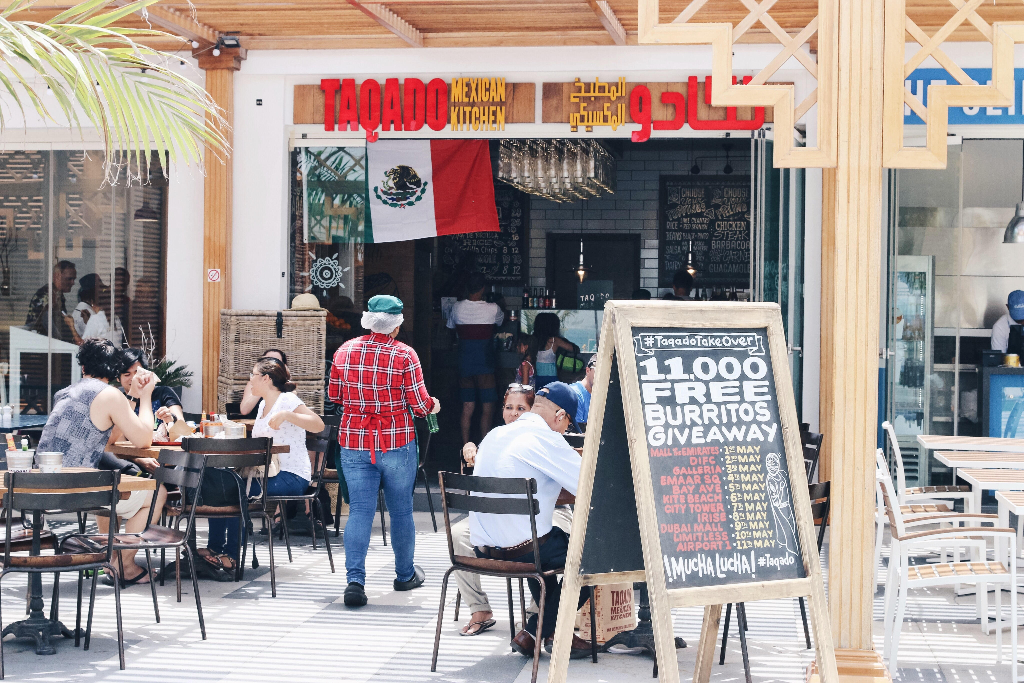 After that I mooched over to their neighbour, Park House for a cup of coffee (they serve RAW Coffee, which is my favourite) – I love the laid-back beach canteen-style interior, and the service is always quick and friendly.
I spent the rest of the weekend staring in despair at my wardrobe, which is completely unequipped to deal with the sudden arrival of summer in Dubai. My day-to-day look is still black jeans and other black or grey clothing, which I'm determined to drag out for as long as possible. My husband did say to me on Friday however, 'you know it's summer now, babe'… which resulted in the incredibly summery ensemble you see in the below picture.
(Not black) jeans from my favourite denim brand of all time; Frame Denim, a t-shirt from Sundry and white dainty converse (not pictured). Honestly, I think this is summer for me guys. (Not black) jeans and grey t-shirts. It's the best I can do. I just don't really 'do' dresses anymore… which is unfortunate seeing as I've just bought a beautiful one from Maison Scotch and now have no idea what to do with it… 🙂
That's all for now anyways, I hope you're all having a lovely week 🙂