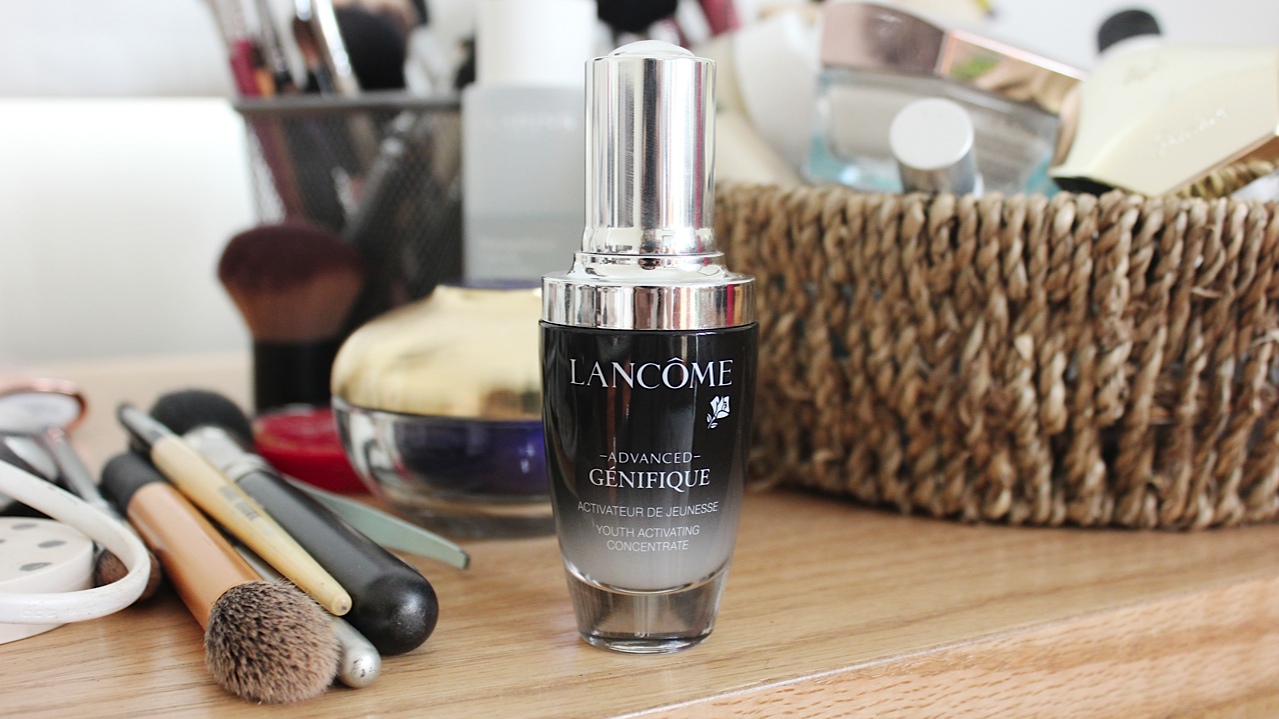 This is the latest skincare offering from Lancome, a brand new, more advanced version of the original bestselling Genifique. Building on the claims of the first one, consistent use of this newbie will apparently result in the  'repair and activation of the 10 signs of youth' such as firmness, fine lines and wrinkles, skin texture and so on with results visible after a mere 7 days of use. Lancome claim that this new version contains 40% more active ingredients, 14 years of research and 9 patents that are covered until 2029. Interesting, no?
Amazing claims aside, I have to say I was a little skeptical about using this when Lancome approached to me try it out. Mainly because 'results in x amount of days' claims rarely ring true and also because I  tried the original version and didn't love it. Granted, I only used it for a few days and very inconsistently at that, but I felt it was quite sticky on the skin so I jumped ship very fast. I do remember however – when I worked on a beauty counter in Brown Thomas, the never-ending steam of women passing by the Lancome counter every day to pick it up, so I figured this new version was worth a go.
The serum is dispensed using the pipette attached to the lid which I really like – it's very easy to extract the right amount and it's not at all messy. I found that half a pipette is enough for the whole face as it seems to just spread and spread without drying up. It's quite a silky texture and once it's on the skin, you feel it sinking in for about 10 seconds and then it's gone. No stickiness, no tight or dry feeling – it's quite pleasant actually. Usually after using a serum I always feel the need to slap some moisturiser on afterwards but I didn't with this.
I used it every night for 7 days at first (at the same time too, just to be pedantic) and this is what I found; after two days my skin felt a lot softer to the touch and much less dry around my chin and forehead. After 7 days there was a definite new plumpness to my skin and astonishingly, some raised blemish marks I had on my cheek had significantly reduced in size. At the weekend I sat peering into my magnifying mirror for about 15 minutes (much to my husbands amusement) to check out how my fine lines and wrinkles were doing and found that the lines around the side of my mouth looked the same but the ones on my forehead were far less visible.
I've been using it now for about 3 weeks and I will admit that I'm impressed. I'm not using it as consistently as I was, but I think that's because I know it works now, so I reach for it every other night or – and I find its superb for this, when my skin needs a boost.
The downside to such effective skincare of course is the price. It's not available in Dubai yet but I believe it will be around Dhs500 for 30ml when it comes out later this summer – although don't quote me on that. The good news however, is that Lancome have given me 3 bottles to dish out to my Dubai-based readers. If you'd like to win a bottle, just leave a comment below, with your email address so I can contact you, saying why you'd like to win. Good luck!