I finally got my hands on Estee Lauder Double Wear Cushion Stick Radiant Makeup!
It's a bit of a mouthful isn't it? Eight words for one product! Anyways, I'm a huge fan of the original Estee Lauder Double Wear foundation. If you've read my blog for any length of time you'll know this, and also the fact that I'm a bit of a foundation junkie 🙂
So, on to the review.
The first thing I need to point out is that this is not a full coverage foundation. For some reason I assumed it would be as it's part of the Double Wear family, but it's not – it's more of a medium.
First impressions are good – nice packaging, very lightweight and a good size for throwing in your handbag. Shade-wise, there are 17 available and Estee Lauder have helpfully named and matched them to the original Double Wear foundation shades. Very smart.
I ordered Ecru, which is my usual shade and it's spot on.
Now, back to the packaging. The foundation is encased in a very sleek bullet-like bottle, and when you pop the smaller lid off you're greeted with a sponge applicator. You then twist the bigger gold section at the other end and Voila! Hello foundation.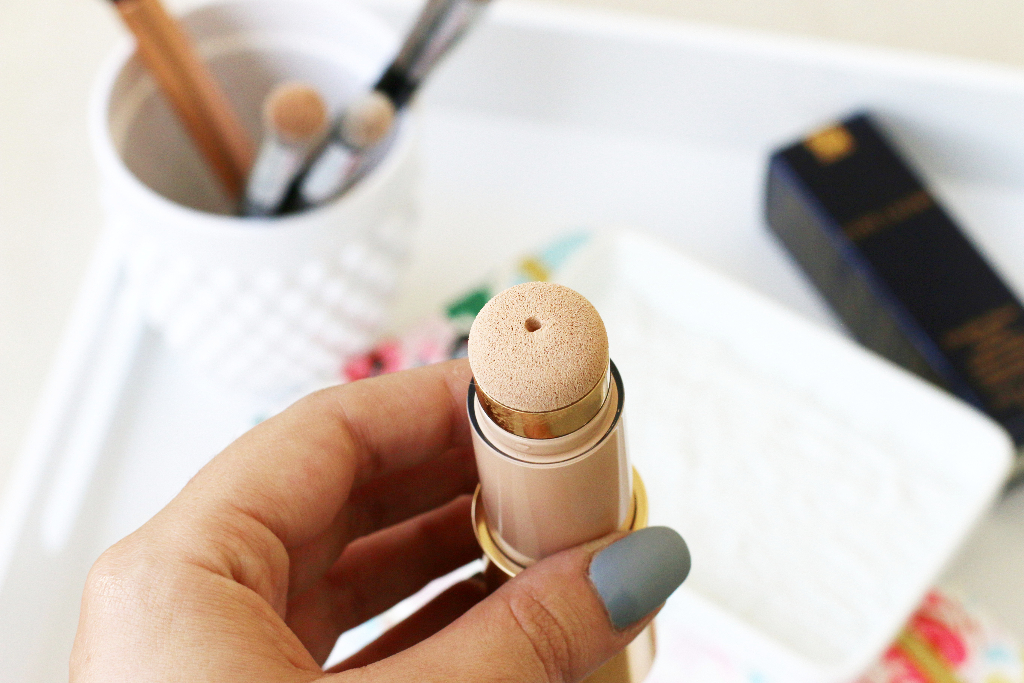 At first, I decided that I didn't like the sponge applicator because it felt a bit strange but now, after a couple of days of using it, I quite like it. It makes it very easy to apply on the go, the sponge works the product in to the skin nicely and you can carry out more focused stippling action in the areas where you need it.
The only downside is the size of the sponge, it's not massive so it take a good five minutes to get it on your face evenly. If you're not keen on sponges or worried about hygiene issues, they have designed this so that the sponge easily detaches/reattaches for regular cleaning. Clever.
I like the finish too – a comfortable semi-matte that looks quite natural and lasts a fair amount of time. I say fair because I get about six hours out of it. That being said, I do spend quite a bit of time running around in 40+ degrees heat, so it will probably last much longer in cooler climes.
To sum up, I recommend it. It's a very nice foundation, and I very much like that I can carry this around in my handbag and get a lovely foundation application or top-up anytime I like.
It's available online from Selfridges and Nordstrom (who both ship to the Middle East – hurrah!) and retails for GBP28/Euro 34 approximately.
UPDATE: It's now available in the Middle East at all the usual outlets and retails for AED147.
Have you tried it yet? Or are you planning to?


Save
Save
Save
Save
Save