I called this a collection because writing the names of both products in the title would be way too long and frankly, uninteresting. It is a new collection of sorts, or a collection within a collection if you will. Confusing, no?! We're all familiar with Bourjois Healthy Mix products, and basically, these two shiny newbies are a new addition to the Healthy Mix range, make sense?
First up is Bourjois Healthy Balance Unifying Powder. It contains a bunch of fruit extracts and aim's to leave the skin looking radiant, matte and balanced without looking cakey. Having used it for the past week, I can attest to all of those claims because it's amazing. First of all, the smell is gorge – so fresh and fruity. The formula of the actual powder is interesting. Slightly heavier then MAC MSF but lighter then Rimmel Match Perfection and really quite mattifying but in a very subtle way. It's buttery soft to the touch and applies very very smoothly to the ski without looking powdery. The press release says it stays in place 12 hours, which it absolutely doesn't but you'll easily get from morning to lunch time with it no problem. What I love the most is that once applied, it stays on how you applied it and doesn't separate on top of your foundation.
Next up is the Healthy Mix Concealer. Having been a huge fan of Clinique Airbrush Concealer for many years, I was thrilled to see this similar and more affordable version from Bourjois. Personally, I love liquid pen concealers as the texture is much lighter then cream and easier to apply especially when you're out and about.
Again, it smells delicious. The formula itself is excellent and very user friendly, a few twists of the pen and enough product is dispensed for both eyes. It blends into the skin nicely and noticeably highlights the under eye area as well as concealing, which I love (hello Kim Kardashian) I would say the coverage is medium, perfect for day but you may want to consider something heavier at night time. It doesn't sink into the under eye lines but  make sure to use a good eye cream underneath as although the formula is not drying, it can look a little dry on top of dry skin, if that makes sense.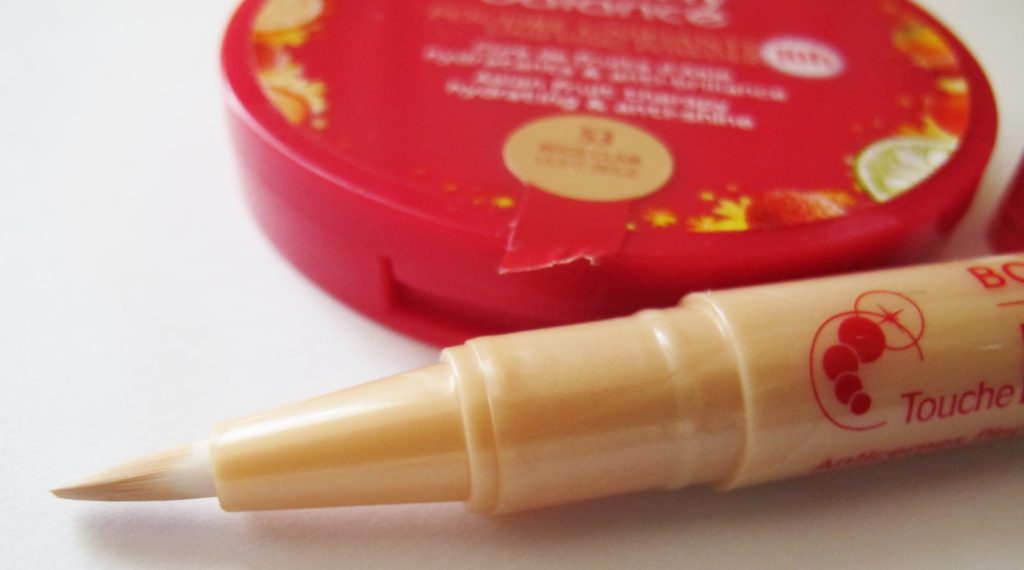 I'm thoroughly impressed with both of these products and highly recommend you give one or both of them a try. As usual the retail price is pretty decent (but not dirt cheap) at AED60/BD6 for the powder and AED69/BD7 for the concealer. It appears that, rather annoyingly, the prices in the EU will be cheaper at 8.49GBP for the powder and just under 10GBP for the concealer, although don't quote me on that. They both go on sale in the Middle East in January and in the UK/Rest of the World in February.