So basically, this is the Scotch on the Rocks collection. It has been renamed for the Middle East market.
When some pieces from the collection arrived on my doorstep I literally squealed with excitement. Look at the prettiness! I'm a sucker for a good Bobbi Brown collection and this one really takes the biscuit. It has a good balance of lipsticks, sparkly nail shades, eyeshadow and the most beautiful highlighter.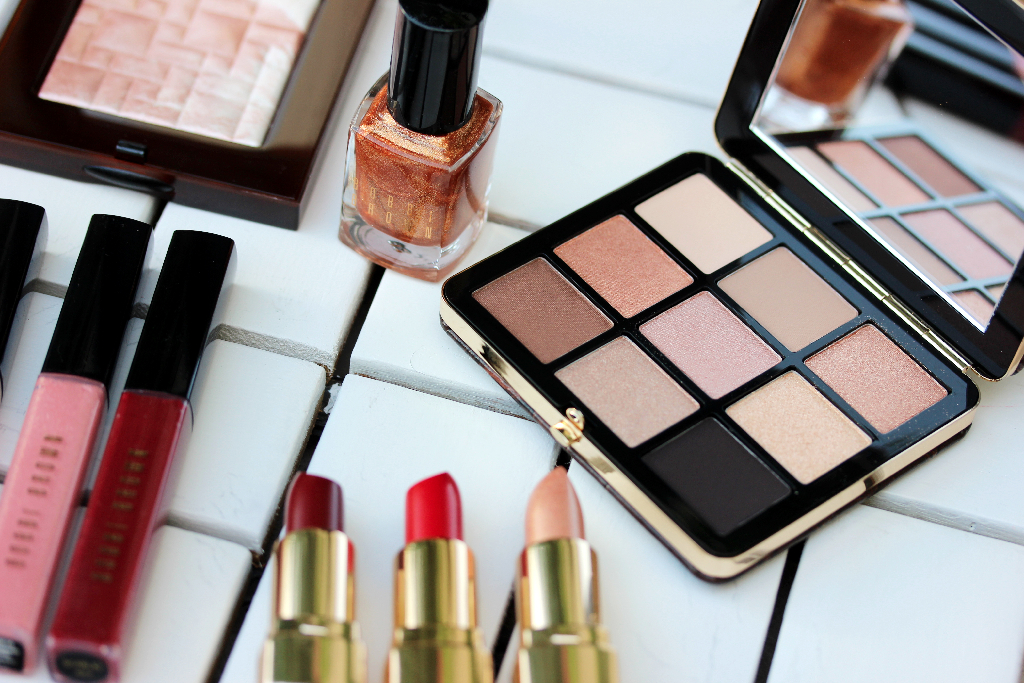 I mean, just look at the eyeshadow palette! It's called Warm Glow Eyeshadow Palette and it has a perfect mix of sparkly and matte bronze and rose gold shades. As per usual, all the shades are mega pigmented and blend beautifully.
Is it just me or is this one of the most beautiful collections ever from Bobbi Brown? I can't help myself from swooning every time I look at it… #loser
The lipsticks though. Left to right; Beige Gold Shimmer, Sultry Red and Bordeaux. I'm not sure how I feel about the shimmery one (I think it makes me look like a corpse) but I LOVE the other two. Sultry Red is so gloriously bright – it's like an old Hollywood red, know what I mean?
Lastly, the highlighter. As all the cool people say, I can't even! I've used this every single day since I got it. That's how much I love it – the shimmer is seriously like no other, and not a hint of glitter in sight! This one is called Pink Glow but there is another, slightly darker one called Bronze Glow. They are both limited edition so they won't be around for long!
So there we are! The collection is on shelves in Dubai in January and available online now from Selfridges and Bobbi Brown. I highly recommend a purchase, and if you only buy one piece – get the highlighter! 🙂