So I'm a fan of florals apparently, as I totally love my new blouse. Who would have thought? Simone in floral print. Usually I can be found roaming the streets of Dubai in all black so this is quite the departure.
So here's the deal. I was in Ted Baker in Marina Mall last week having a quick look (as you do).
Known for their co-ords, floral prints and cool-but-quite-girly pieces, I panicked upon entry. Why? Well, I usually wear all black. I live in jeans. And casual is my middle name… You get the picture.
But then after a quick browse, I came across two things that made me go 'ooh'. A completely gorgeous ribbed grey cardigan that I plan to wear all winter/at home in Ireland/in the cinema/everywhere… And this floral blouse, which really I feel is a bit of a super star in the making.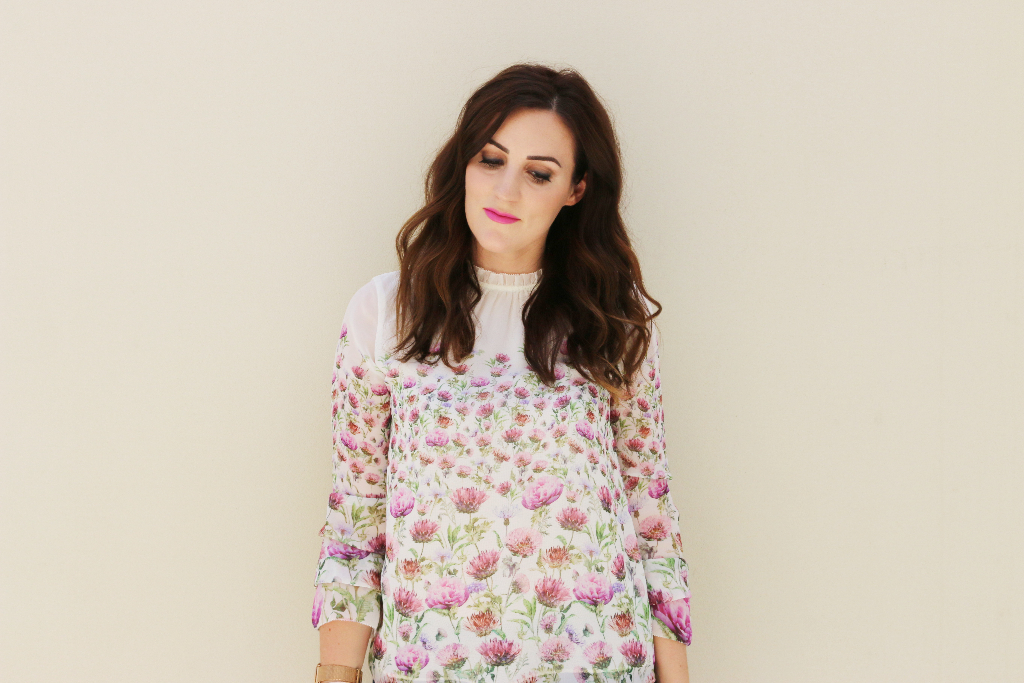 It's so light, and so flattering and incredibly comfortable to wear and cut close enough to the body to show your shape (but loose enough to throw on with jeans and still look quite casual). It's called the Luceal Thistle Sheer Top – although it's actually not that sheer, with most of the sheerness concentrated on the sleeves.
I've worn it twice already this week, and it's only Wednesday 🙂 Both times I've thrown it on with my Topshop Lucas Jeans, which also deserve a special mention because I truly love and adore them.
If you like slightly high-waisted jeans like me (these are medium), with a semi-boyfriend cut (but not too boyfriend-y) that sit prettily at the ankle (and still make your bum look good) – then you need these. They are a revelation!
So comfortable, no saggy-arse vibes, and easily dressed up or down. Plus they are a decent enough price.
And now, after that little rave about new things, I am off to have a lie down, which will most likely be followed by an evening of tea and GBBO. I think I'm coming down with the dreaded Dubai summer flu, which is always a bugger to keep at bay when you're darting in and out hot sun/cold AC.
Thanks for reading and speak soon! 🙂
Save
Save