Whether you're a gradual fan, a traditional tan lover, or fond of an instant non-streaky glow, there is a brand and a formulation to suit you. Here are 11 of the best self-tanners I've used across all categories.
All of the below products made the list as they excel in ease of application, wear time, and of course, colour. And something I feel is necessary to add is that I am truly awful at applying tan – yet all of these make me look like a pro.
Face
I don't use developing tan on my face. I prefer instant drops I can mix with my moisturiser or foundation, or a warmer, tan-like foundation. My absolute favourites are in the list below. I'd also like to give Luna by Lisa Sun Tint an honourable mention as it's great for both the face and body.

Instant
The type of tan I reach for most these days is instant. I generally don't have the time or patience (or skills) for developing tan, and usually, the decision to tan is always very last minute – hence my love for instant. All of these are whack-on-and-go formulas, they're easy to apply, don't streak or transfer, and with the exception of Body Blur, they all dry pretty instantly (Body Blur takes a few minutes longer). I'm very partial to Body Base at the moment, and I love the brush for ease of application (watch a demo of my applying it here).

Gradual
Gradual tans are my second big love. I particularly love using them on holiday. I usually bring a mini version of Tan Luxe The Gradual and Tan Luxe Face Drops with me and slather them both on at night to maximise my tan. Saying that, I love Bare by Vogue's new tanning serum, and I'm a longtime fan of literally everything Amanda Harrington does – so all of her products make the list too.

Developing Tan
When I do have time, patience, energy and a sudden urge for a longer-lasting glow, these are pretty much the only three I use. I have tried many others that are great, but these three are fantastic (and foolproof) in my opinion.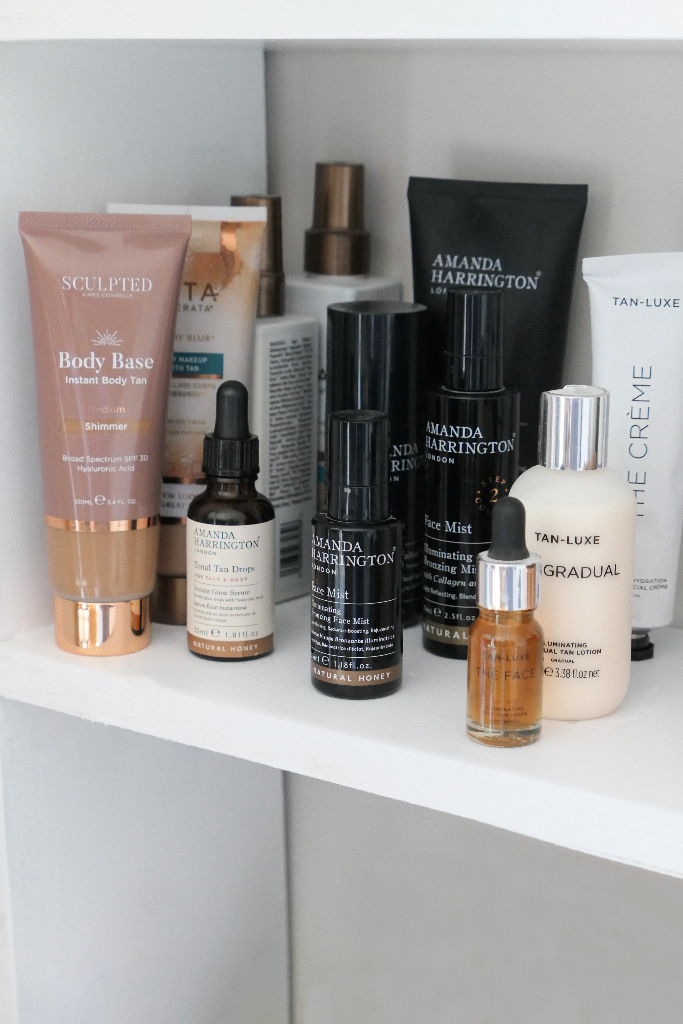 Some of the links in this post are affiliate. This means if you click on them and make a purchase, I make a small commission.
Thank you for your support ♥