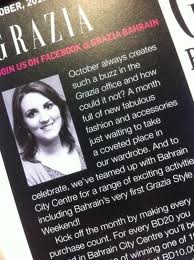 I have no idea how this post is going to turn out as I'm blogging from my phone, a brand new experience!
I'm waiting in departures as I'm off to Kuwait for work for a few days. I've brought my new favorite lipstick with me, Bourjois Sweet Kiss in Fuchsia Cosmopolite, a delicious rosy pink and not much else! Seeing as I brought so little it would be rude to not go shopping…right?!
This post is a blatant excuse to show you my mug in the pages of Grazia Bahrain this month, I was the Editor for their October Style Weekend supplement, an uber exciting experience! I was so worried about my makeup looking good in the bio picture that I failed to notice they were printing it in black and white, ha!
If any of you ladies based in Bahrain pick up a copy let me know what you think. That's all for now, have a nice weekend everyone!