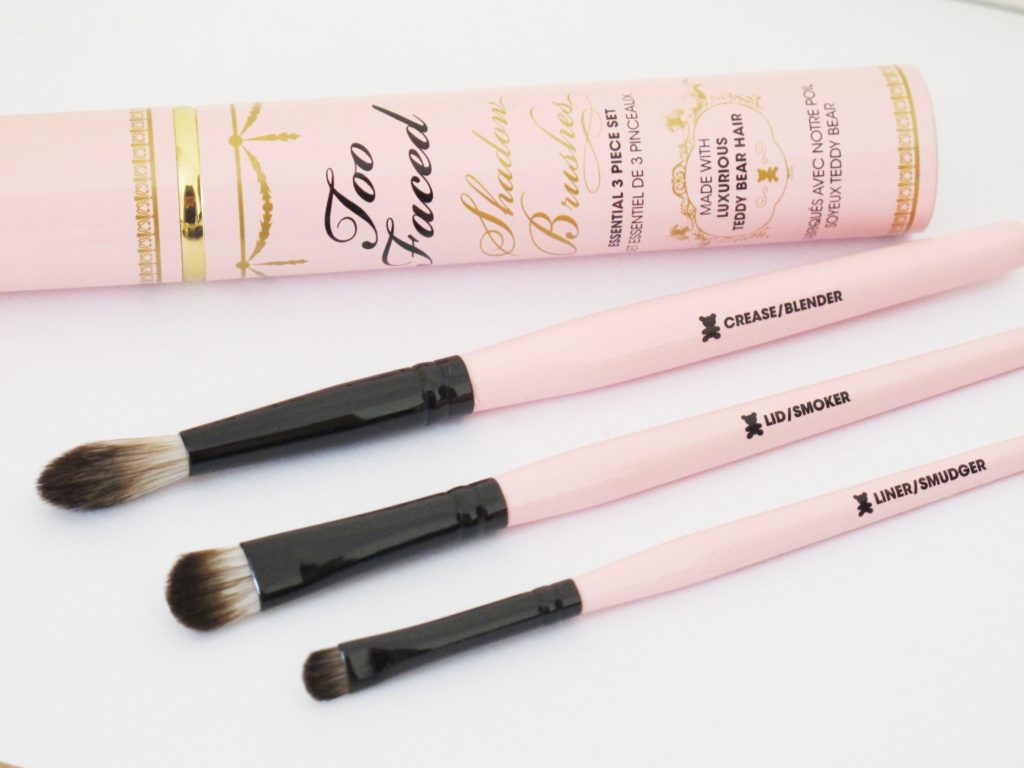 How cute is this little brush trio from Too Faced? According to the label on the front of the brush holder, the three synthetic brushes are made from "luxurious Teddy Bear hair", so cute! As far as brushes go, I must confess I've never tried any from Too Faced before. I have tried and still use some of their makeup products and find them pretty decent so I was excited to get a closer look at these.
They're short-handled sturdy brushes and the bristles on each brush are dense and solid. Personally, these eye brush types are the ones I love and use most regularly. The crease blender brush is not as precise as say, the MAC 217 but it's great for blending out a neutral shadow all over the eye. The lid brush is nice and flat and great for laying down cream eyeshadow in particular but also sturdy enough to apply product on the lower lash line. Although the third brush is called Liner/Smudger, I wouldn't personally use it for liner, I like liner brushes to be a bit sharper, with thinner bristles and this one will not provide a precise enough application. It is however perfect for applying highlight to the inner corner or smudging liner and kohl on the upper and lower lash line.
Aside from the brushes being nice to look at and easy to use, they are a dream to clean! That might sound funny, but some synthetic brushes can be an absolute nightmare to wash (hello Sigma HD kabuki brushes) and often I find myself not using them much for this reason only. The brush trio is available in Sephora and costs 21.4BD here (about 40 euro), not cheap but when compared to a high-end brand like MAC, pretty good value overall for three.
What do you think of these, would you buy them? Eye brushes are my weakness, I have so many that (according to my husband) "all look the same". If he only knew how different and special each one of them was.. ha!