Shall we have a little catch-up?
I spent the whole morning working on the back-end of the blog, filing old posts and renewing registrations, so I figured it was time to give the old girl some love.
So, what's been happening since we last spoke?
Like OMG so much.
One of the most obvious things is probably that I cut all my hair off. It was driving me mental, and you know that old saying – a change is as good as a rest. My hair BFF Anthony opened his own salon in JLT, so I took it as a sign and went there for the chop. The salon is called MANE and it's located in the same cluster as Bonnington Hotel. Anthony's Senior Stylist Sharon did the deed, and I couldn't be happier.
I had a bit of Botox done recently (sorry Mom) at Dubai Cosmetic Surgery on Al Wasl Road. The aim was to look a bit 'fresher', as the dreaded line between my eyebrows had reappeared, so I booked in to see Dr Rory McGoldrick. We had a long consultation, and he gave me some great advice about my skin, so I had a little bit on the forehead and around the brows, and I'm delighted with the result. I thought Rory was bloody fantastic, and I highly recommend a chat with him if you're contemplating any aesthetic procedures – he's fab (and Irish).
Shopping. You know me – a little bit here, a little bit there. Mainly ASOS, a few pieces from Whistles. The usual story. A couple of standout buys I have to mention, though.
This top from ASOS, which I'm wearing in the picture above. This dress from Millie Mackintosh (up there with my all-time best purchases), this skater-style denim skirt, and these fab Gladiator sandals.

And of course, makeup.
Right now, I'm in what can only be described as a wonderful makeup rut. I'm working my way through lots of products, buying very little, and enjoying wearing exactly the same makeup (more or less) every day.
There are some new additions though (I'm only human, lads), all of which are glow-getters.
I'm very much into looking as highlighted as possible these days 🙂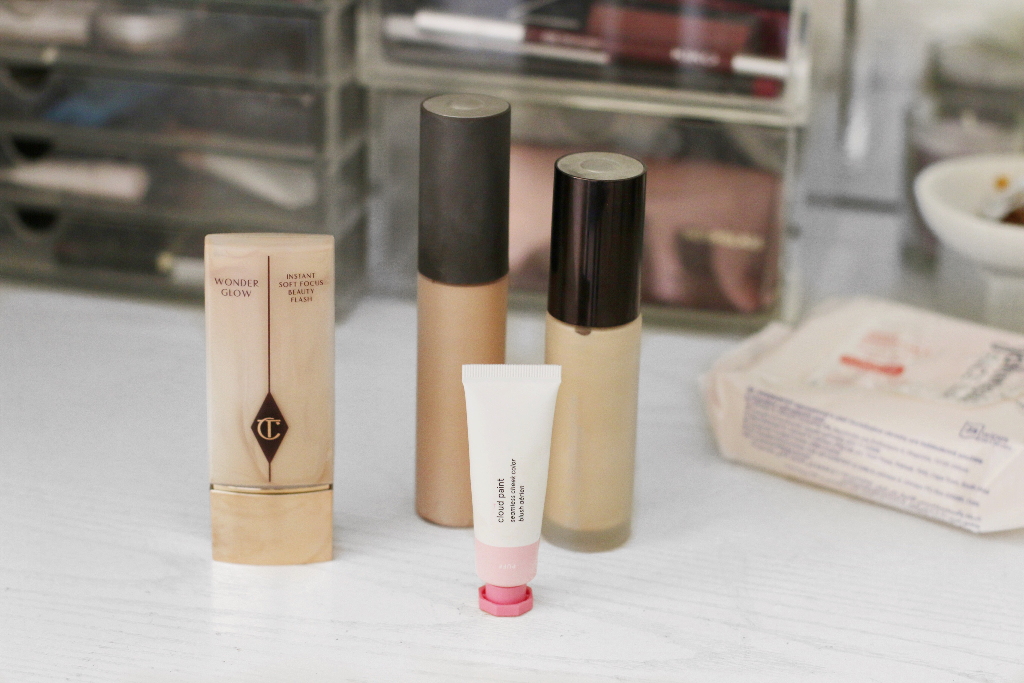 I met Charlotte Tilbury (shut the front door!) a few weeks ago, as her line is finally coming to Dubai in January and she was here to promote the launch. Hurrah!
She gave me an amazing goodie bag post-event, and in it was what I now consider an every-day OMG product: Wonder Glow Instant Soft Focus Beauty Flash.
Under makeup, over makeup – this stuff is SO GOOD. Glowy, dewy, healthy skin – a bit of a tint, gives your foundation a bit of movement – whatever, put it everywhere. I'm in love. It's so light, so not sticky, so amazing.
Side note: when I met Charlotte, she said 'Darling' 24617 times.
Also, Becca Shimmering Skin Perfector. We all know how amazing it is, and I have a new bottle courtesy of Laura. AND a tube of Glossier Cloud Paint! I very much like this shade; 'puff' – as it's not sticky, and blends so nicely. You also don't have to 'work' with it quickly as it doesn't dry/stain the skin. Sometimes I mix this with a little bit of Becca Shimmering Skin Perfector and oh my, highlighter/blush goals you guys.
I think that's all for now?
If you don't follow me on Instagram already, please do – it's the best place to watch me waffling on about non-essential topics, like; places that serve amazing sweet potato fries in Dubai, and how tired/hungover/hot I currently am, etc.
I'll be back soon! Thanks for reading 🙂