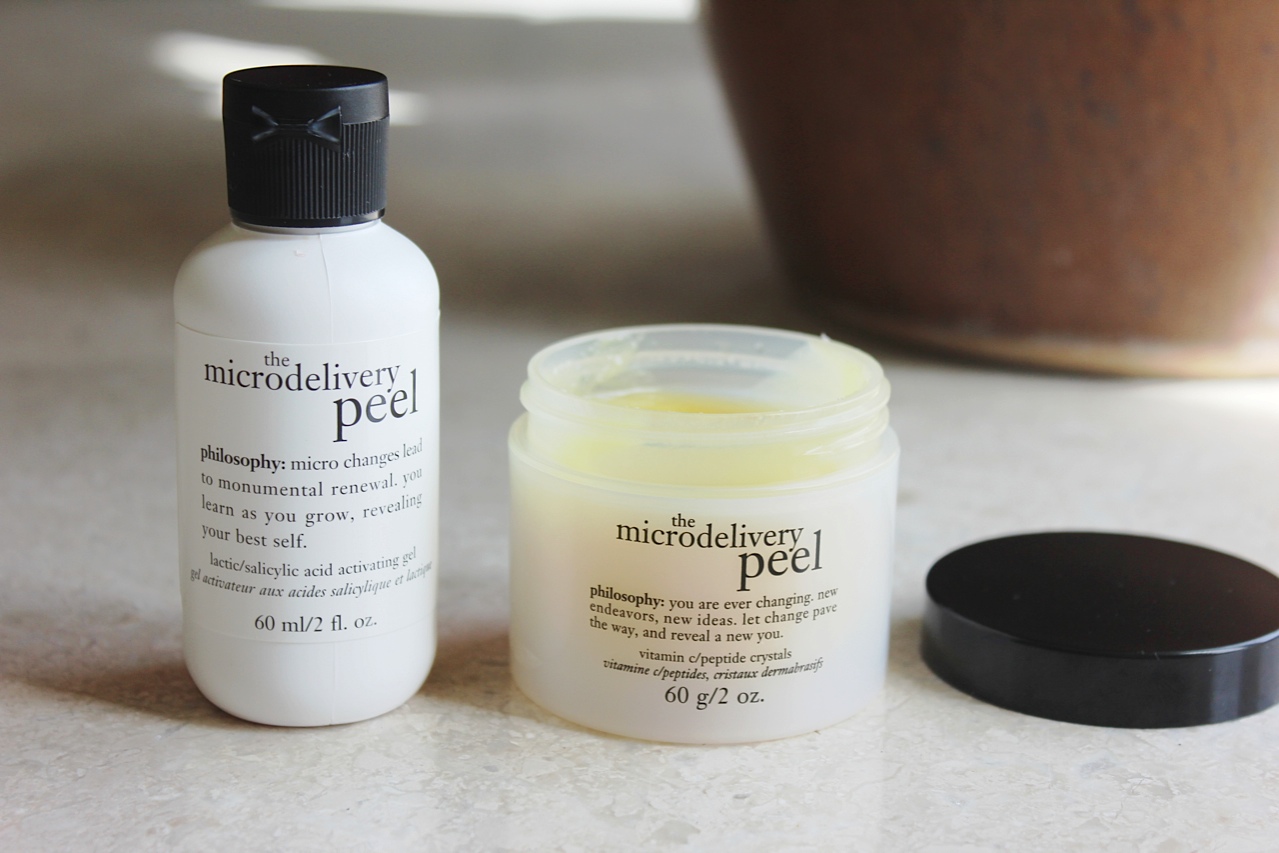 On my trip to Sephora last week I was loitering around the Philosophy stand mooning over the pretty packaging. Of course, about .5 of a second into my loitering, the sales assistant pounced on me. She asked me if I had ever tried the microdelivery peel, I said no and thus a five minute demonstration begun. To be honest, I was all set to feign interest, "ooh yeah it seems nice but I'm just looking today, thanks" and walk off, BUT that's not what happened. She applied the two-step peel to my hand and voila! I was sold. Yes, I know – I am devoid of willpower.
Anyways, I gave it a go last night and the results were so impressive that I thought it merited a blog post. Before I get into it, it must be noted that this is not actually a peel. No peeling happens, the skin doesn't peel off, you don't peel the product off etc. No peeling. What does happen however, is a bit of scuffing – for use of a better word. The top layer of the skin melts/scuff's away, depending on how gentle you are when using it.
So, what is the claim? Philosophy reckon regular use of this at home kit will resurface and rejuvenate sun damaged, hyperpigmented, aging skin. There are two products in the kit; a tub of vitamin c/peptide crystals and a little bottle of lactic/salicylic acid activating gel and as you'd expect with two products, it's a two-step process. First, a teaspoon amount of the peptide crystals is massaged gently all over the skin (dry skin I might add) – massaged is the operative word here. If you scrub your face with this stuff it will hurt. Do this for about a minute (it's quite pleasant), then follow-up with a teaspoon amount of the activating gel. Again, massage this gently over the peptide crystals on your face, it will start to foam and your skin will start to feel quite warm – which is the vitamin c in action. Leave it on your skin for about 2-3 minutes and then rinse thoroughly with water. And that's it.
The results? Pretty damn impressive I have to say, there was a visible difference in my skin after just one use. Even my husband noticed, which is unheard of. It looked so much brighter and felt incredibly soft, not a lump or bump in site. As it's quite intensive, I would recommend using it no more than twice a week, less if you have very sensitive skin. At Dhs350, it's far from cheap but it's worth every single penny and it will last a very long time. If you're in Dubai you can get it in Sephora, or online here from Boots in the UK and Ireland.