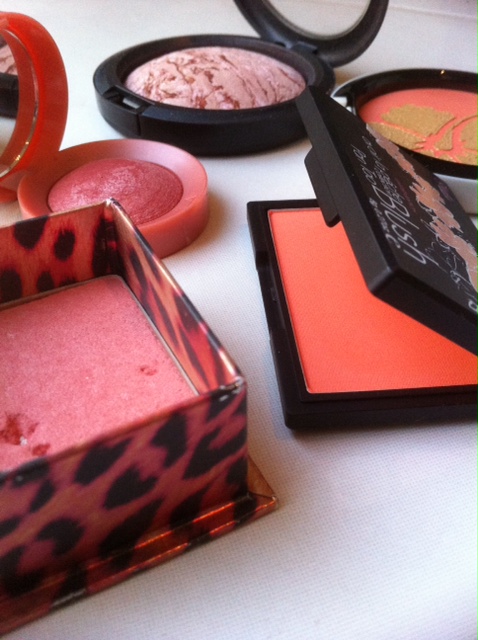 Ah summer, and blusher. Two of my favourite things.
I've noticed a shocking trend in my blushers (not really). They are mostly powder and of coral origin. I really need to get over the coral phase. Its been going on too long now I feel. Above are the blushers I've been reaching for over the last couple of weeks. Some are prettier then others but they all make me happy in some shallow way.
Coralista is like an old reliable, nice smelling friend. The packaging is cute plus it never fails to make me look alive. 'My Paradise'  from the Surf Baby Collection was an impulse buy. I couldn't not own the packaging and the gold leaf/butterfly/whatever it is overlay. It's a beautiful coral shade (sigh) and the gold design is fab as a highlight.
MAC Petticoat Mineralize Skin Finish is another favourite. It reminds me of strawberry ice cream and looks fabulously fresh on the skin. It doesn't smell as good as No. 16 Rose Coup De Foudre by Bourjois though. Sort of like roses but not. It has a slight shimmer in it and again, it's almost coral but not quite. Phew!
The last one has me on the fence. Some days I love it and other days it nearly blinds me. Neon orange blusher by Sleek, also known as Pan Tao. There's no getting around the shade. Its orange, but somehow it works. At present, as I am a little bit paler then usual, its not working. I'll hold on to it though. Come September I shall be sunning myself like no woman's business!