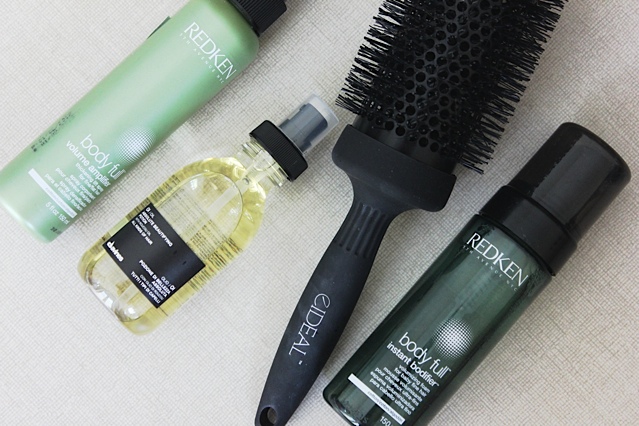 After stalking Redken stockists in Dubai for some time I decided to take the plunge and purchase some products from the Body Full range, which is all about pumping up the volume. I picked up the Body Full Instant Bodifier Mousse from Pace E Luce hair salon in Marina Mall, along with the Body Full Shampoo. I instantly loved the shampoo and incidentally, I'm now on my second bottle – but I haven't quite figured out how to use the mousse yet. Any suggestions? I'm terrible at using mousse in my hair – it always ends up looking flat and crispy. I picked up the Body Full Volume Amplifier Spray too, as I might as well give the whole range a go, right?! I want to love it as it's non sticky and smells nice, but it's just not making my hair big enough sadly.
Then a couple of weeks ago I was sent this brush by Eideal, a high-end haircare distributor in the Middle East – it's a ceramic design that claims to deliver smooth, big hair when used correctly. When I first saw the brush I thought I would never be able to use it because it looks so massive and frightening, but – whether it the design or the fact that I spend too much time in salons, I've got it down!  It literally glides through my hair and you can twist it and twist and it never gets caught in the hair or pulls on your mop. As a result I've been sporting moderately large hair with super sleek ends recently, imagine?! And I did it at home. Crazytown.
Lastly, I've been getting to know a new hair oil from Davines called Oi/Oil. Initially when I used it I wasn't impressed, I thought it was way too heavy and made my hair look greasy as I was using it on the ends after blow drying. When I did a bit of research online I discovered that it apparently works best when finger combed through damp hair before styling and my god, –it does. This oil is actually amazing – my hair looks incredibly smooth and so shiny after just a few uses. Granted, the heavy formula means my hair feels slightly greasy by the time I'm going to bed but that doesn't bother me as it's benefits far outweigh having greasy hair at nighttime. Naturally, I'm keen to investigate the rest of Davines line now as this has impressed me so much.
Are any of you using these products at the moment? Also, any recommendations for how to get huge hair?!