Lots and lots of pretty new products hit the shelves here in Dubai every month and I'm lucky enough to get my hands on quite a few of them. Unfortunately I don't always have time to write individual reviews about each one so I thought I would start doing a monthly round-up of what comes my way so you can keep your eyes peeled for the ones you like.
And so, without further ado…
Davines Glorifying Haircare System
An anti-aging hair-line covering all bases from preparation right down to styling encased in very beautiful heavy packaging. A shimmering hair mask, shimmering shampoo, intensive serum and colour protective leave in treatment make the lineup. Particularly good for colour treated hair. Prices start from around Dhs120. Davines is available from selected salons in Dubai.
Bliss Fat Girl Sixpack
Cute and just a little bit gimmicky, the latest product from Bliss promises to break out your abs with its tummy toning cream gel and shnazzy applicator. It's packed with caffeine and they reckon 20-30 seconds of rubbing in will result in tighter, more toned skin in no time. Dhs200 from Bliss outlets in Debenhams in the UAE.
Lancome Gloss In Love lip gloss
The latest lip product from Lancome, Gloss In Love is a new formula with a new applicator that promises to perfectly shape and define lips. There are an impressive 12 shades to choose from, and as you can see from the picture below they are all very beautiful. The formula is silky smooth and non sticky and some of the shades are packed with shimmer and sparkle, if that's what you're after. I believe they cost around Dhs110 but I could be wrong. Available from all the usual places.
Elemis Spa@Home Frangipani Monoi Salt Glow
Described as an exotic spa holiday in a jar, this salt glow scrub aims to restore skin radiance and remove dead skin cells. I haven't tried it yet but I can tell you this; I want to eat it. Also, if there was a matching candle I'd be all over it because it smells absolutely amazing. Dhs272 from Bloomingdales in The Dubai Mall and selected spas.
Clinique A Different Nail Enamel for Sensitive Skin
High shine and streak free, this new nail polish collection from Clinique is geared towards those of us with very sensitive skin and nails. it's dermatologist and ophthalmologist tested and promises not to chip for seven days. There are seven shades available and the packaging is nice and sleek. I believe they retail for around Dhs60. The shade below is Red Red Red. Available from usual outlets.
Bourjois general new releases
Colour Boost Lipsticks, Dhs60 are available in four shades – the one below is Fuchsia Libre and they are as good, if not better than their many high-end counterparts. The pigmentation is nothing short of magnificent and they last a very long time. Volume Glamour Max Holidays Mascara is from the same collection (Summer in Montmartre) and I believe it's the same formula as the previous Volume Glamour Mascara, just in a mini take-on-holidays size. Lastly, Rouge Shine Edition lipstick, Dhs70. A smoother, newer version of Rouge Edition lippies and available in eight shades.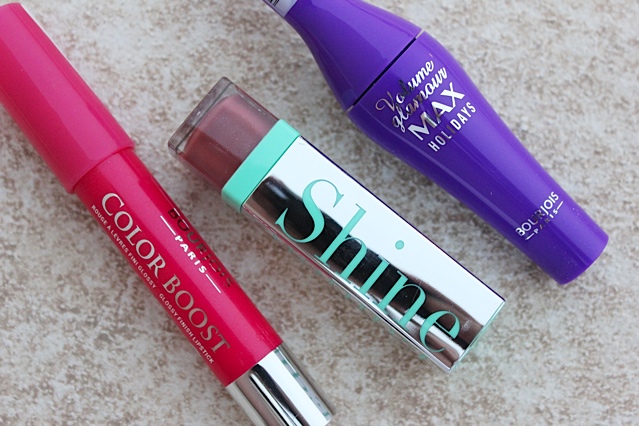 Ponds Clear Balance Collection
A new exciting clay formula from Ponds, these four products reckon they are all you need to solve your everyday skin issues, mainly the production and presence of excess oil on your skin. I love the packaging and the fresh smell and the price isn't too bad either at about Dhs50 per tube. Available from most supermarkets in Dubai.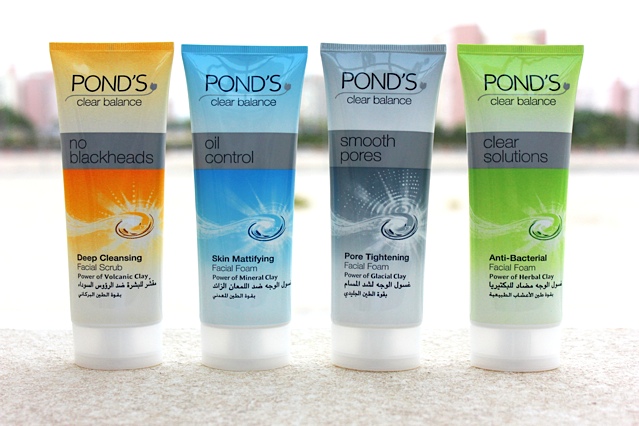 MAC Making Pretty Collection
Not really sure what's going on here to be honest. I received these products from the brand but no press release and when I went rooting around online I found out that the collection was released in the US last year around Christmas time. The most likely explanation is that it's only reaching the MENA region (and possibly Europe) now, which often happens with MAC Collections. Either way, it's definitely pretty – I think we can all agree on that one. From what I can gather the collection is made up of brushes, lipstick, Iridescent Loose Powder and Sheer Mystery Powder. Below is Runaway Red Lipstick and Sheer Mystery Powder in medium. I love that they've stepped away from the usual black packaging for once and applaud their use of rose gold and cute little bows. No idea on the prices but I expect they won't be far off the usual for new collection pieces.
And there we have it. What are your favourites? Let me know in the comments!