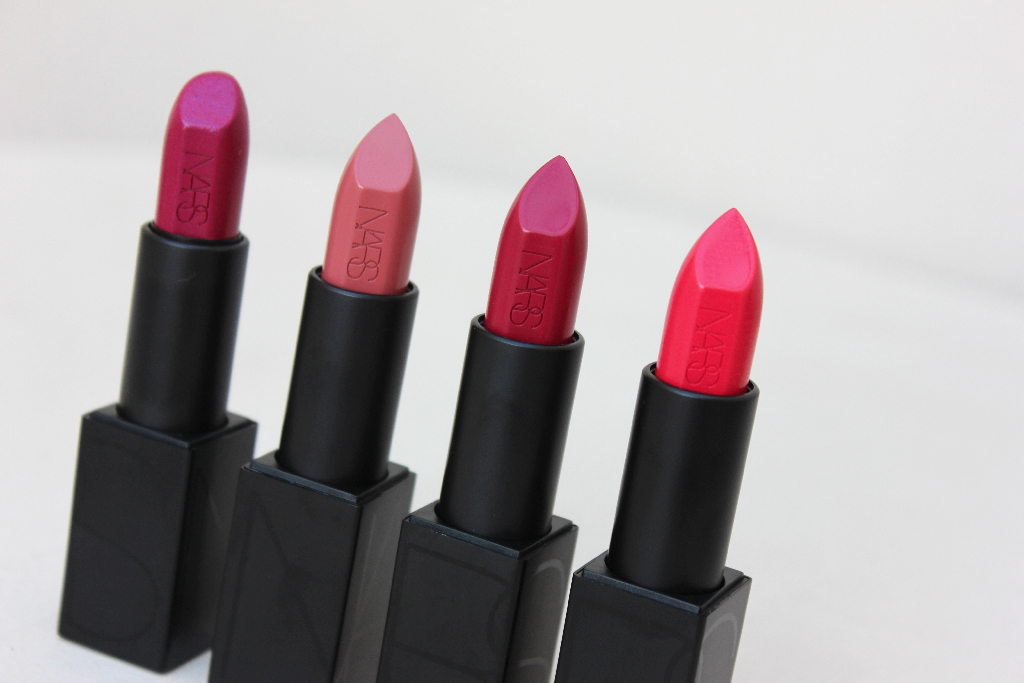 Soooo, I finally got around to writing a post about the new lippie offering from Nars.
There are 30 shades in total in the Audacious Collection. I stalked them online very briefly and decided that yes, I would definitely like to own one (or three), so off I went to Sephora with Laura.
At first glance I was a bit disappointed. None of them really stood out and I thought all the shades were a bit 'meh'. Don't get me wrong, there were lots of lovely ones but nothing I hadn't seen before from other makeup brands. After humming and hawing for a while I decided to go for Janet, a deep magenta shade with the teensiest, tiniest hint of shimmer. I also bought Sheer Glow Foundation, Creamy Concealer and er, Dual Intensity Eyeshadow in Phoebe, but more on that another time… 🙂
When I got home, I realised that Janet was extremely similar to Estee Lauder Pure Colour Envy in Tumultuous Pink, which was a little bit disappointing, but hey! I like what I like 🙂
Anyways, I was seriously impressed from the get go. Audacious Lipsticks are extremely pigmented and creamy, so the colour in the bullet is exactly the shade you get on first swipe. No need for second layers and so on. I'd nearly recommend using a lip brush to apply them as so much colour comes off in one swipe! The lasting power is pretty good too, I get a good five hours out of Janet before it starts to look less punchy, and funnily enough – more matte.
I went to a little Nars event for Audacious and received three other shades for my collection. Left to right; Janet, Anita, Vera and Grace.
I haven't got around to trying Grace or Anita yet but let me tell you this, Vera is a lipstick shade we all need. It's a gorgeous deep pink/red berry shade that looks amazeballs with gold/bronze eyeshadow (which I basically live in). Here it is on my mug below;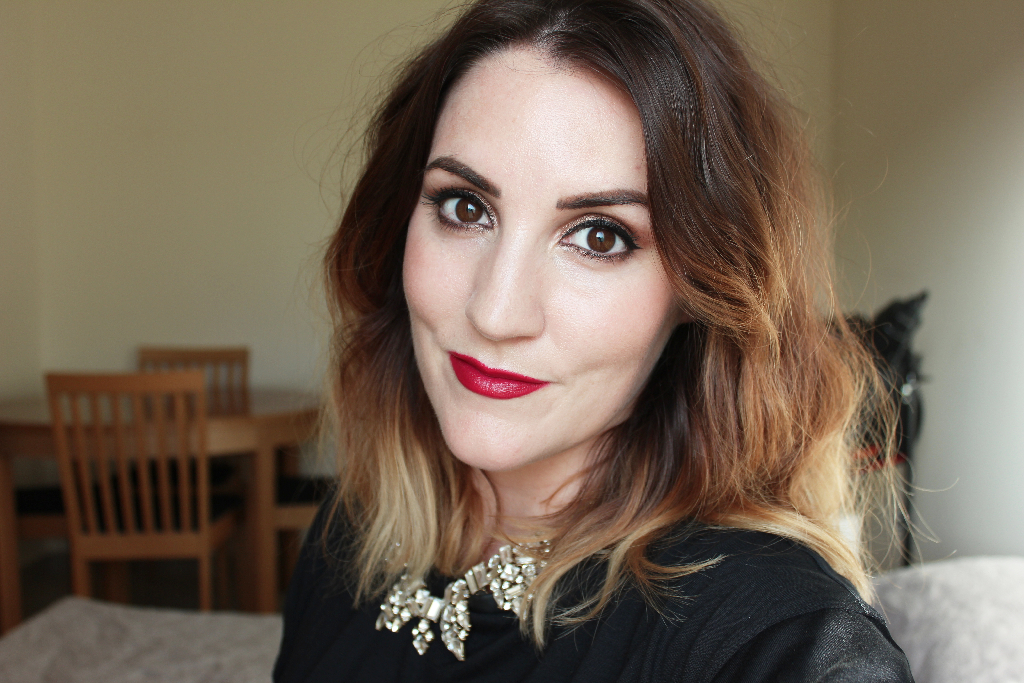 Isn't it gorge? I'm a little bit obsessed. Also, if you want to see what Janet looks like on there's a  picture on Facebook of it on my face.
And I can't finish the post without mentioning the packaging. Typical Nars, extremely cool with a nice weight and a magnetic clasp so the lid won't come off in your handbag. Most of the range (I would say about 15-20 shades) is available from Nars in Dubai right now (Sephora MOE and Dubai Mall) and they retail for Dhs160 a piece, or you can buy them online from Selfridges (who have all 30 shades).
Will you be buying one of the shades, or have you bought some already? And if yes, which ones? Share and care! 🙂