I recently wrote about the fact that Laura Mercier had returned to Dubai, after a long hiatus. Naturally, I couldn't just swing by the counter for a look without losing the run of myself and picking up a product (or two). I've been a massive fan of the metallic cream shadow's for some time and previously owned and loved Rose Gold, so I decided to repurchase. It's a gorgeous erm, metallic rose gold shade (my descriptive skill's are on fire today) that lasts for ages, both on the lid and in terms of product size and value for money.
I also had a bit of a moon over the amazing baked shadow's on offer and fell in love with Black Karat , a delicious dirty dark green with flecks of bronze and black running through it. The payoff is excellent and I've been wearing it as a light wash over the lid during the day and feeling all sultry and moody, which is no mean feat when you've just given birth to an 8lb baby!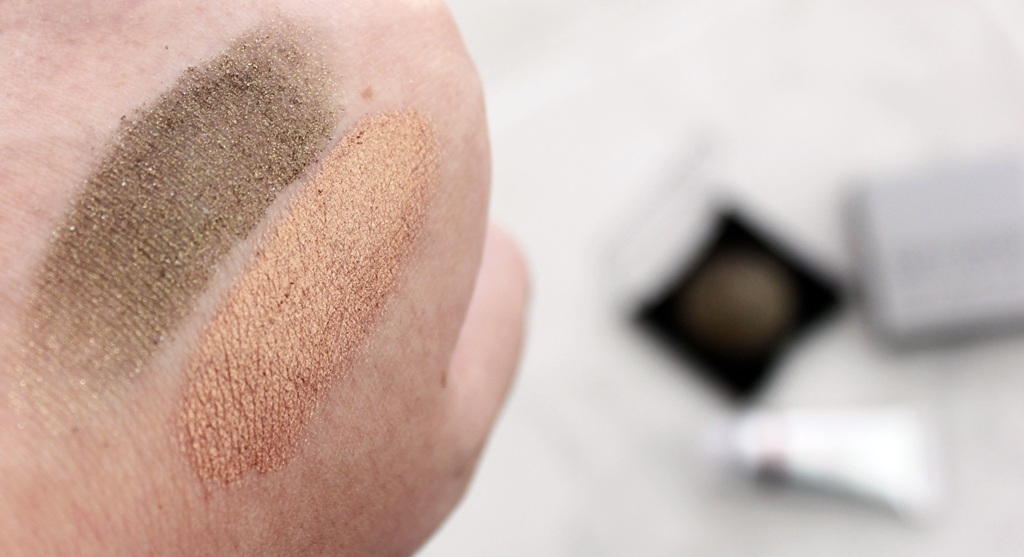 Here's the swatch pic above also to give you a general idea of how they look on the skin. Having visited the counter, the makeup wheels in my mind have naturally been set in motion towards future purchases. I'm thinking of filling my boots with more Tinted Moisturiser's and perhaps another bronzer once I've run out of my beloved Chanel one, we'll have to wait and see! Have you bought anything from Laura Mercier lately?