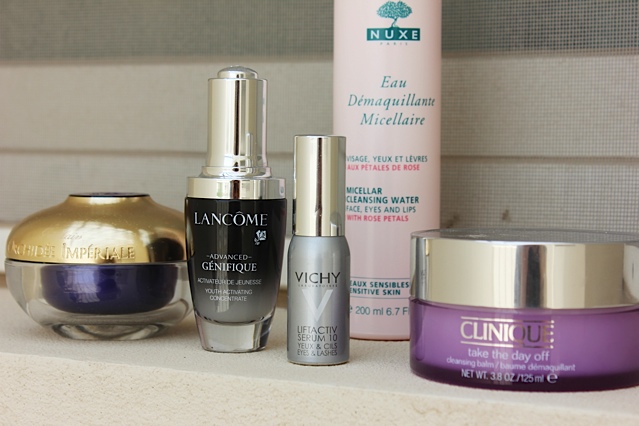 I get asked all the time about my skincare routine but I don't blog about it because I'm really fickle when it comes to skincare. I change my mind all the time; find new stuff, dump old stuff, become bored with current stuff and so on. Recently however, this has stopped. I'd like to think it's because I'm getting less fickle (yeah right) but honestly, it's because I'm getting older and I know now how important a good skincare routine is.
My routine right now consists of the five products above (and Philosophy Microdelivery Peel which I forgot to include in the pic because I keep it in the loo).
1. I cleanse with Clinique Take The Day Off Cleansing Balm – hands down the best cleanser I have ever used. Removes everything, amazing to use, gentle on skin, no dry or tight feeling, non greasy, non sticky. Amazeballs. I don't know what else to say about it.
2. Nuxe Micellar Cleansing Water with Rose Petals comes next. I lightly cleanse my face again with a little bit of this on a cotton disk and use it to remove eye makeup. Honestly, I think I am on my eighth bottle of this stuff. Super gentle, takes everything off in seconds, feels lovely and soothing on the skin, non sticky and leaves no trace. No redness after use either.
3. Vichy LiftActiv Serum 10 comes next. This goes all over my eyes; underneath, on top of the lashes, on my lids – everywhere. It's a cooling, almost gel like formula and de-puffs everything. Again no irritation, just super soft, cool-to-the-touch skin.
4. Guerlain Orchidee Imperiale La Creme. The moisturiser of all moisturisers to end all moisturisers. This is my La Mer. It has done astonishing, wondrous things to my skin – but you would expect that when it costs a couple of hundred euros. Guerlain sent this to me a couple of months ago, which was amazing and lucky, as there is no way on gods green earth (or desert in my case) that I could afford this. I will cry a river when this runs out. An actual river!
5. Lancome Advanced Genifique. A new (ish) anti-aging serum from Lancome which I use a few times a week for a boost. I feel like it's softened out some of my lines but I could be imagining things. It's a lovely formula, non sticky, super soft and soothing and it feels nice on the skin, and that's good enough for me really.
So there we have it. I also use Microdelivery Peel once a week. You can read my review of that here. Are any of you using these products?