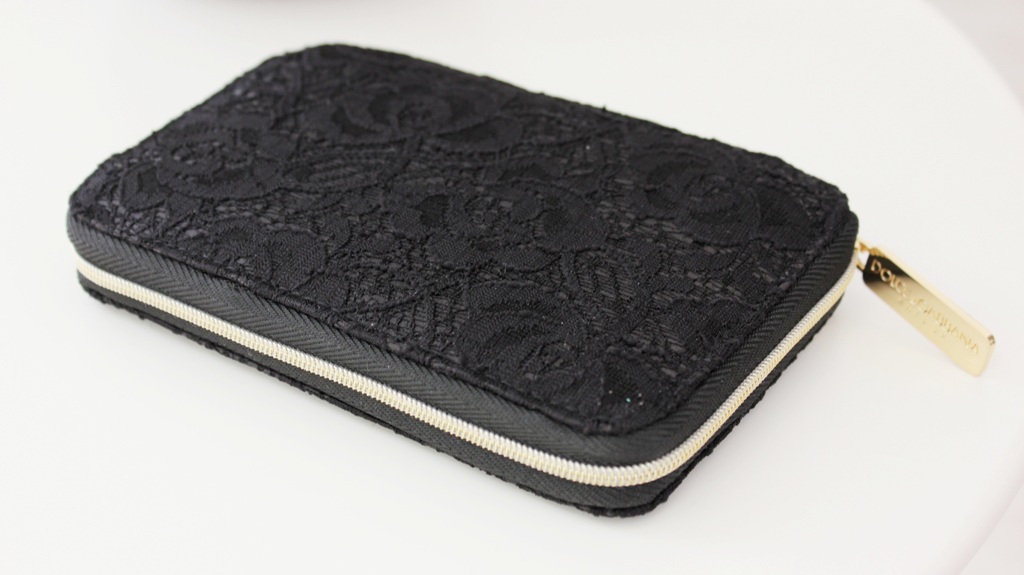 If I'm honest, I took these pictures thinking I would probably never use this brush set. Why? They're just too pretty to use! The thought of slathering makeup all over them made me feel a bit funny and unsteady on my feet… I planned to keep them in their gorgeous lace carry case and take them out every now and then to gush over and then safely return them again, brush cover's and all. Naturally, that lasted about oh, five minutes because the quality of these is just SUPERB and I couldn't not use them. So superb in fact that I used capital letter's just there to push home my point.
The mini brush set is part of D&G's sensual SS12 Lace Collection which is choc-ful of gorgeous products all emanating a sultry, dark vibe. No surprise that the face of the collection is the amazingly gorgeous and sultry Monica Bellucci. The brushes themselves come encased in a stunning, sturdy lace case with a velvet interior (swoon). Each brush is short-handled and solid, easy to use and with super soft bristles. They also look super posh!
The idea behind the case (apart from it being a super gorgeous gift to yourself) is that all you need is these four brushes to cater to your every makeup whim. From powder and foundation to eyes and lips, there's one for each cosmetic need. D&G also cleverly labelled each brush so you know which one is for which! Cute huh?
I'm usually not one for mini-brush collections as I don't tend to carry them around with me and so on, but this one is just divine. From the quality and the packaging to the fact that's it's by D&G, it's just all so… more! Unsurprisingly, 'more' comes with a price tag and the set retails for AED420 in the UAE from Paris Gallery, which is about 90 euro's. But hey, it's Dolce & Gabbana right?!!