I'm as fickle as the day is long when it comes to foundations. You only have to take a look at my You Tube channel or under the foundation tab on this blog to see how many I've reviewed in recent months. I'm rather horrified to admit that that's only the half of it too, I try out so many that often the poor things don't even see the light of day here unless they pass muster.
Anyways, I thought I'd do a quick post on the one's I'm currently loving as there's been an element of consistency with these that there hasn't been with others of late. Some are new, some have been knocking around for a while but I have equal love for them all.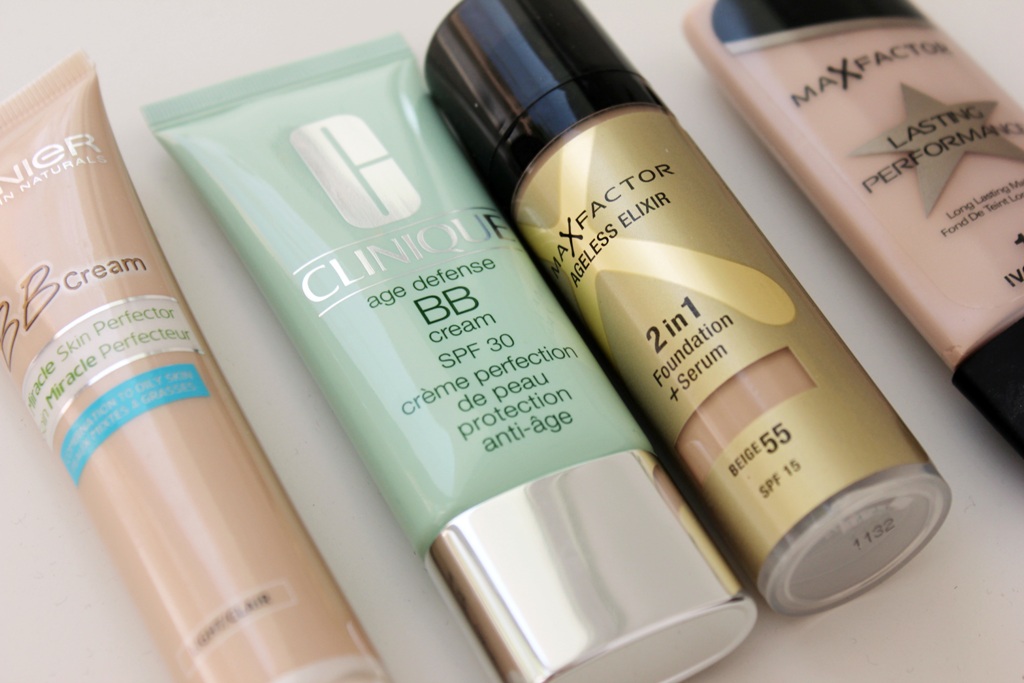 First up, some BB Creams would you believe. I'm still loving Garnier's second version specifically aimed at oily/combination skin types. The texture is beautiful, it's SPF 20, long lasting and affordable. You can check out my full review and demo of it here. Clinique have also jumped on the BB bandwagon and I'm rather impressed with their version too. Aimed at all skin types and offering SPF 30, medium coverage, anti-aging properties, oil control and a skin-like finish it's jumped right to the top of my what-I'm-loving-right-now list.
Two traditional foundations have also made the cut, and from the same brand; Max Factor. The first is Ageless Elixir 2 in 1 Foundation and Serum. Although I was loving this a few weeks back, I have even more affection for it now as my skin has dried up slightly since giving birth. The smooth, moisturising texture of this is a pleasure to apply and so soothing to my currently parched skin. Again, I've done a full review and demo on this which you can check out here. And lastly, Lasting Performance foundation from Max Factor. This one kind of blind sided me a little bit as it's just so bloody good! It's been out for quite some time but as usual I've only just discovered it now! It's a fabulous long lasting, smooth, full coverage foundation that looks and feels amazing on the skin. Really, I am truly impressed with this and what a bonus that it's so affordable!
I feel like I've got it down in terms of amazing skin products at present, but we'll see how long that lasts. No doubt something else will crop up in the next few weeks (if I could insert a "rolls eyes" emoticon here I would).