I've been perving over boyfriend jeans for some time now. I held off from purchasing a pair as I  always worried that they would look too baggy or shapeless, or be uncomfortable or god forbid – make me look fat! But Laura (a big fan of boyfriend jeans) faithfully assured me that I would love them and they wouldn't do any of the above things, so I immediately bought a pair from ASOS.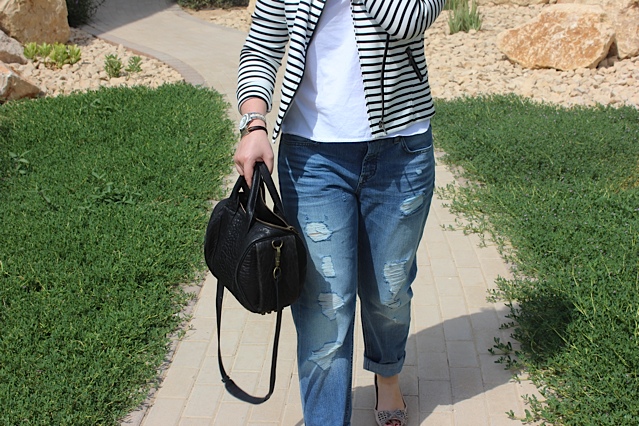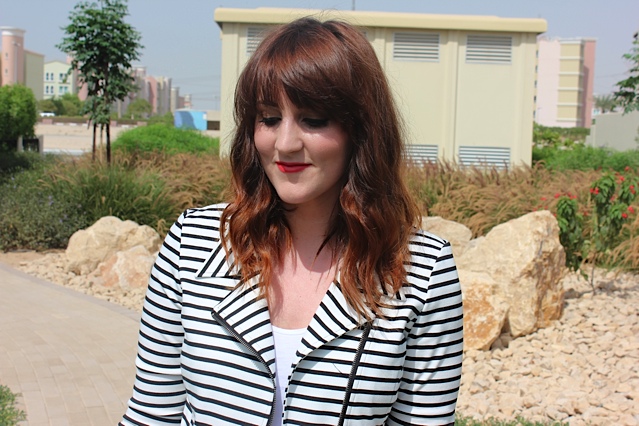 When I put them on I couldn't believe how well they fit and how comfortable they were. The denim is super soft and they slouch enough to look boyfriend-y but not too slouchy that you end up with some unfortunate crotch action. ASOS describe them as low-rise, but I would say they are a mid rise jean. They taper in and finish at the ankle but I think they look better when rolled up once. I threw them on with a plain white t-shirt from ASOS and my beloved Stoosh blazer for running around today. My Guess watch came out to play too along with a cute Whistles bracelet I got on sale at ASOS.
My makeup consisted of Coralista blush, Clinique Intense Chubby Stick in Heftiest Hibiscus and lashing of liner and mascara. Although I have said it before, the lasting power of Intense Chubby sticks is damn impressive, and I am actually in love with this colour – a perfect orange-y red. I thought it would be gone by lunchtime but it lasted all day, even in 40 odd degree heat. Everyone keeps saying how it's starting to cool down here and I'm like 'er, it's 41 degree's'. I think that's what happens when you have lived in the Middle East for too long; a couple of degrees down and we think it's positively balmy!
Hope you're all having a lovely weekend 🙂
Save